Summary
Launched on Dec 24, 1998, Alpari started on a small scale, but grew to become one of the most popular online trading services in the industry.
Pros
• Choose from multiple accounts and trading platforms
• Cashback program and trading contests
• Forex school for beginners
• 20 years of industry experience
• Technical support through live chat
Cons
• No multilingual customer support
Here are some interesting facts about the company:
It has signed sponsorship deals with West Ham United FC, Russian National Biathlon Team, Seven Summits, New Jersey Nets, FC Spartak Moscow, and many others.

It operates a charitable fund for physically challenged children and their families.

Alpari Research & Analysis Limited is a specialist in financial market analytical research.

The company offers a rewarding partner program.
Is Alpari Reliable?
This FX broker is reliable for the following reasons:
Security Of Funds
It is a member of the Financial Commission, which settles disputes between traders and their brokers.

It maintains trader deposits in a separate account and has partnered with several reputed banks.

It uses the latest SSL digital encryption technology to make transactions secure and protect trader data.

It is licensed by the Belize International Financial Services Commission and the Financial Services Authority of St. Vincent and the Grenadines.
Guide to Registering a New Trading Account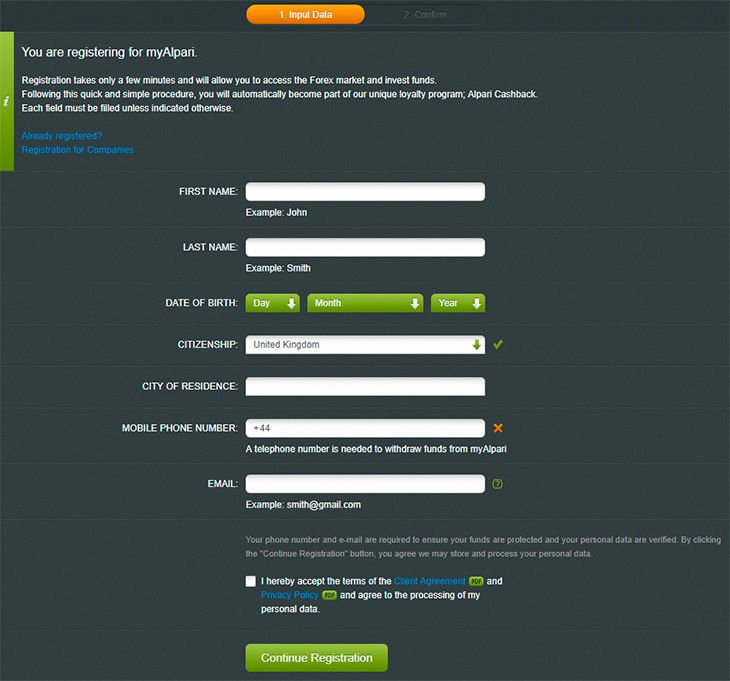 If you are reluctant to trade for real money, you can get started with a demo account. Click on the "Open a Demo Account" link to open an online registration form that can be filled in a few minutes.
Alpari demo accounts are risk-free ways to learn about trading. The forex broker automatically includes demo account holders into its cashback program and also creates a real money account for them. Traders can migrate to their live trading accounts and start trading for real money whenever they wish.
Alpari Bonuses and Offers

The online trading service has designed several bonus offers and promotions that can spice up the trading experience.
Alpari Cashback – The loyalty program at the online trading platform is called Alpari Cashback. Whenever registered users invest funds, buy trades, and deposit funds, they will receive points that can be redeemed for real money. To join the loyalty program, traders only have to create an online trading account.
The loyalty points that traders can earn as members of this loyalty program are called Alps. Traders can later exchange their Alps for real money, use them to purchase discount packages, or receive refunds on commissions and spreads. They can also use Alps to trade in Fix Contracts and earn as much as 100% in profits.
Premium Client – Traders can become premium clients when their total deposit amount reaches the $50,000 mark. As premium clients, traders can enjoy benefits such as special bonus offers, 100% compensation on deposit commission, and personal investment consultants and managers.
Premium clients can also request the broker to give them an advance of up to $10,000. They can also place an unlimited number of orders, a benefit that can greatly boost their trading profits.
Zero Deposit Commission – If traders make deposits through China UnionPay, they will receive full compensation on deposit commission.

Two Types of Wallets – Alpari is home to two types of wallets—energy wallet and capital wallet. Points (Alps) earned through making deposits are credited to the capital wallet while points earned through making investments and trades are credited to the energy wallet.
Whenever traders decide to use their Alps to purchase discounts, the Alps in their energy wallet are used first. When the Alps in the energy wallet are exhausted, the Alps in the capital wallet are used. Whenever traders withdraw their profits, they will lose some of the alps in their capital wallet.
Forex Trading at Alpari – How It Works
The company allows traders to trade on spot metals, CFDs, and currency pairs and spices up the trading experience by offering up to 50% compensation for funds invested in spreads and commissions, a maximum leverage of 1:1000, and interbank liquidity access beginning with 0.01 lots.

Here are some of its top features…
Independent Trading
Traders can make informed and independent decisions because Alpari offers a variety of trading instruments, user friendly services, several types of accounts, cashback, and hassle-free banking methods.
Traders can also read forex articles, use trader's calculators, participate in trader contests, sign up for analytical market reviews for free, and utilize analytical services such as Autochartist's technical analysis, trading news from FxWirePro, and trading calendars from FXStreet.
Fund Management
Seasoned traders can attract investors by creating a PAMM account. When they use this account, they will not only make profits on their investments, but also earn commission on profits made by the investors they attract.
Trading Signals
Traders can copy the trades of other traders, also known as signal senders, on their personal trading account. They can also earn extra income by sending signals.

Since Alpari has integrated this service into its MT trading platform, traders can access it through all types of accounts. To avail of this service, traders only have to pay a fixed fee. They don't have to worry about commissions or hidden fees.
When you become a signal sender or permit other traders to copy your deals, you will not only help other traders get experience in forex trading, but also earn additional income. Owing to instant data transmission, signal senders will hardly experience any delays in copying trades.
Alpari Contests
The broker runs several trading contests, which give traders opportunities to boost their profits. Some of the most popular contests are Trader Wars, King of the Hill, Successful Investor, and Virtual Reality, among others.
Forex School
You can learn how to trade forex at Alpari's Forex School, which includes a glossary, training videos, high-quality forex articles, and eBooks on Forex. The Forex School offers webinars in five languages and enables traders to get in touch with tutors through live chat. Moreover, traders can learn trading strategies online from any part of the world.
Types of Accounts – Standard, ECN, and PAMM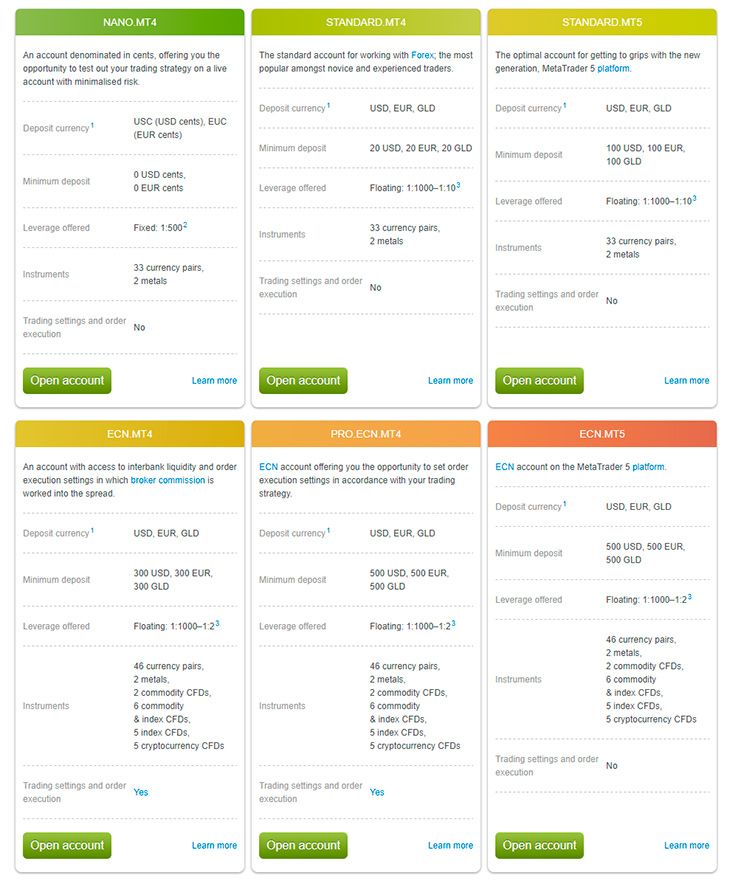 Traders can invest in forex by opening six types of independent trading accounts.
Nano.MT4 – There is no minimum deposit required for opening this type of account. Traders can learn everything about trading on a live account without risking their hard-earned money. Alpari gives them access to 34 instruments, including 2 metals and 33 pairs of currencies.

Standard.MT4 – The standard account is very popular among seasoned as well as new traders. They can start with a minimum deposit of US$20.

Standard.MT5 – This type of account gives traders the opportunity to get familiar with the sophisticated MT5 platform.

ECN.MT4 – This account comes with interbank liquidity access and over 60 instruments, including currency pairs, commodities, and indices. The minimum deposit is US$300 and the orders are executed in such a manner that the broker's commission is integrated within the spread.

Pro.ECN.MT4 – This account enables traders to customize the settings of their order execution according to the strategies they would like to implement. The minimum deposit is US$500.

ECN.MT5 – This is an ECN account that can be operated on the MT5 platform.
As mentioned above, the broker also allows seasoned traders to open PAMM accounts so that they can manage the funds of other investors in exchange for a fee. PAMM accounts can be either ECN or standard on the MT4 and MT5 platforms.
Banking Information – How to Make Deposits and Withdrawals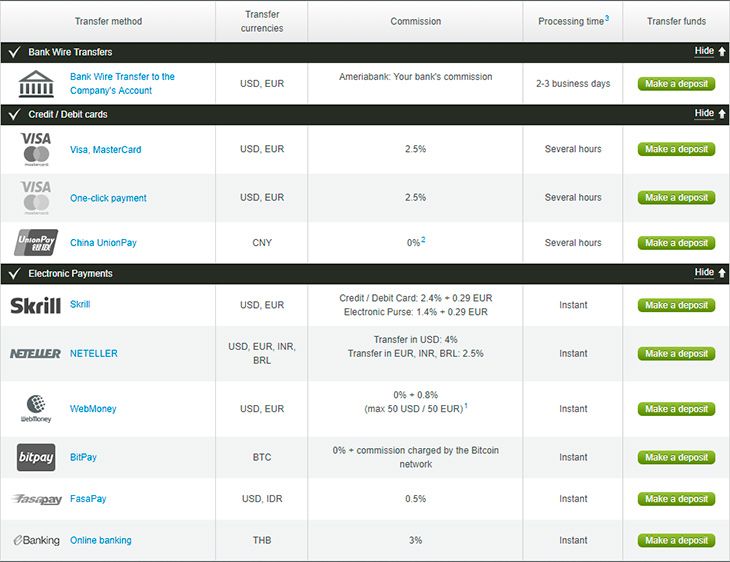 Traders can make deposits in the following three ways:
Bank Wire – Traders can transfer funds directly from their bank account to their trading account. They have to pay a commission to the bank, and the deposits will be credited to their account in 2 – 3 working days.

Credit/debit Cards – Traders can use Visa, MasterCard, and China UnionPay to make deposits. They have to pay a commission of 2.5% for Visa and MasterCard deposits, but China UnionPay deposits are free of commission. Credit/debit card deposits take several hours to reach trading accounts.

Electronic Payments – Alpari offers electronic payment methods such as BitPay, WebMoney, Neteller, FasaPay, and Online Banking. Traders can also use cryptocurrencies such as Ethereum, Zcash, and Litecoin. The commission varies according to preferred currency and payment method. The Bitcoin, Zcash, and Ethereum networks do not charge any commission, but the commission is 3% for Online Banking and 0.5% for FasaPay.
Traders can use the following methods to withdraw their profits:
Bank Wire Transfer – If traders withdraw a minimum of US$13 to a maximum of US$30, they have to pay a commission of 0.1%, and they will receive their money in 2 – 3 working days.

Credit/debit Cards – Transfers can withdraw their profits through China UnionPay or MasterCard. The advantage of using China UnionPay is that it comes with zero commission. In case of MasterCard, traders have to pay a commission of 1.2% plus €2. The funds take two business days to reach traders' accounts.

Electronic Payments – Alpari allows traders to withdraw their profits through Skrill, WebMoney, Online Banking, FasaPay, and Neteller. The commission depends on the preferred withdrawal method, but Neteller is a commission free method and FasaPay has a low commission of 0.5%. The funds reach traders' accounts in one business day for all methods except Online Banking, which takes 2 working days.

Internal Transfers – The broker offers the option of account-to-account transfers in USD, GLD, and EUR. The processing of internal transfers take several hours, but the method is commission free.
Getting Help at Alpari

The company has a customer support team that is always eager to interact with traders.
Client Support – The online forex trading service offers client support from Monday to Friday, between the hours of 6:00 and 19:00 GMT through the telephone number +44 8449 869559, Skype alpari-connect-skype, Viber alpariltd-chats.viber, and email to [email protected].

Technical Support – Customers can obtain technical support 24/5 through the email address suppo[email protected] and the telephone number +44-8449-869559 (ext. 1).
Traders who want to contact a customer support agent instantly must click on the live chat link on the homepage. This opens the live chat window and connects them to a customer support agent.
Conclusion
Since Alpari has been in the industry for several years, the company has earned the respect and goodwill of traders from different parts of the world. Its large portfolio of financial products and services makes it ideal for all categories of traders—beginners as well as expert traders. While beginners can start with demo accounts, seasoned traders can open PAMM accounts and earn extra income.