Summary
FxPro is an online trading company that has been in business for more than 15 years. So far, it has executed 250,000,000 trades purchased by 100,000s of online traders from different parts of the world. Headquartered in 13/14 Basinghall Street, City of London, EC2V 5BQ, United Kingdom, this company has five offices in different parts of the world, employs more than 200 people, and has partnered with the external auditor PricewaterhouseCoopers (PwC).
Pros
• Choose from 4 state-of-the-art trading platforms
• Licensed and well-regulated Forex broker
• Wide range of trading tools to maximize trader profits
• Hundreds of instruments across six classes of assets
• Winner of 55+ industry awards
Cons
• No bonuses and promotions
• No educational material for beginners
The company's most special feature is the sponsorship deals it has signed with AS Monaco FC, World Rally Championship, AFC Champions League, Watford FC, Fulham FC, Beda FxPro Sailing Team, Virgin Racing F1 Team, BMW Sauber F1 Team, and the Intercontinental Rally Challenge.
It is the winner of over 55 international and UK awards, such as the following:
Best FX Service Provider (2018) from City of London Wealth Management Awards

Best FX Provider (2018) from Online Personal Wealth Awards

Most Trusted Forex Brand of UK (2017) from Global Brands Magazine

Best Forex Provider (2017) from Wealth Management Awards and Investors Chronicle & Financial Times Investment

Named Best MT5 Broker (2015 & 2016) at UK Forex Awards
With over 15 years of industry experience to its credit, the company has traders from 170+ countries all over the world. It enables trading in over 250 instruments, including CFDs on futures, shares, forex, spot metals, spot energies, and spot indices.
The company offers four sophisticated trading platforms—MT4, cTrader, MT5, and Edge. Some of the hottest features of the online trading service include fast execution of orders (less than 13 milliseconds), 24/5 customer support, and trading services in 17+ languages.
FxPro Facts & Figures for 2024
Here are some of the latest facts about FxPro.com:
FxPro is a leading brand in the forex industry. It is regulated by the Financial Conduct Authority (FCA) which is a leading agency in the Forex Market. Amongst many other awards, FxPro has won the Best Fx Provider of 2020 from the Online Personal Wealth Award.
Excellent customer service
Besides supporting more than 17 languages, FxPro exhibits professionalism in customer care services.
Outstanding trading platforms
With four trading platforms, FxPro offers a variety of conditions enabling trading in preferred style. Besides, all platforms allow the use of micro-accounts.
Orders are filled in less than 10 milliseconds with a record of up to 2,000 and 199,397 orders per second and a single day respectively.  The executions are placed directly without mid-intervention.
The online FX broker executes 7000+ trade orders per second and the time taken to execute the average trade order is less than 11.06 microseconds.
Is FxPro Reliable?
The parent company FxPro Group Limited holds companies such as FxPro UK Limited, licensed by the Financial Conduct Authority (FCA); FxPro Financial Services Limited, licensed by the Cyprus Securities and Exchange Commission (CySec); FxPro Global Markets Limited, licensed by the SCB; and FxPro Global Markets MENA Limited, licensed by the Financial Sector Conduct Authority.
FxPro – A Trusted Broker
The company encourages its registered users to trade responsibly and warns them about the risks associated with trading. According to its Invest Responsibly page, spread betting and CFDs are complex instruments associated with high risks. About 79% traders lose their money while trading spread betting and CFDs.
The company warns traders that they tend to take higher risks to avoid losses. Since emotional effect of loss is greater than the emotional effect of gain, investors tend to hang on to investments that have lost value, but sell those that have gained value, it explains.
Open a Demo Account – Your Risk-Free Opportunity to Learn How to Trade
If you are interested in trading, but do not know much about it, you can get started with a demo account. All you have to do is click on the "or open a Demo Account" link at the bottom of the Register Now and get started link. FxPro will open a real money account too along with your demo account. But you can use your demo account as long as you like.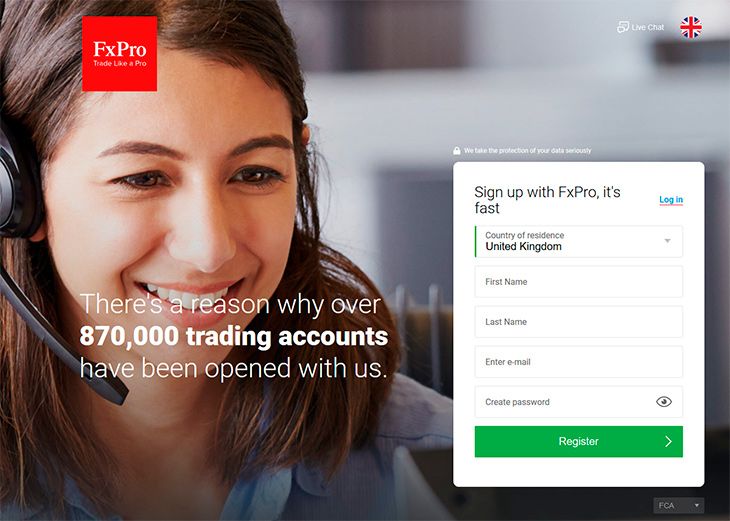 Whenever you feel that you have learned enough to start trading with real money, you can shift to your real money account.
When you click on the "Register Now and get started" button or the "or open a Demo Account" at the bottom of it, you will be taken to an online registration page. You have to select your country of residence from the dropdown box, input your name, enter your email, and create your password. Finally, you have to click on the light green Register button at the bottom to create your account.
FxPro – Types of Accounts
The company offers three trading solutions, which traders can choose according to their requirements and trading habits. They can open demo accounts for each of these three trading solutions.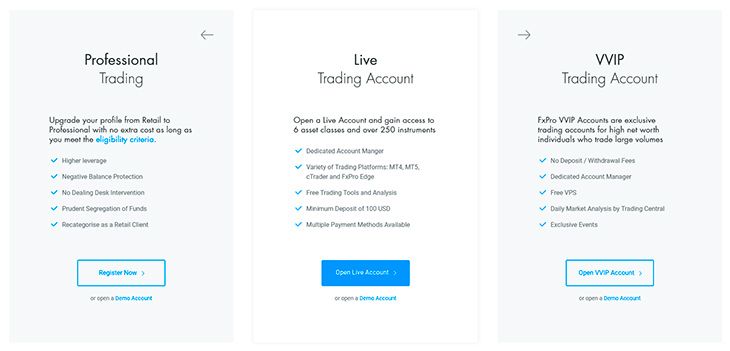 Professional Trading
This type of account comes with benefits such as negative balance protection, higher leverage, segregation of funds, and no intervention from the dealing desk.
Live Trading Account
A live trading account gives traders access to 250+ trading instruments across six classes of assets. The associated benefits are access to a wide range of trading platforms, free analysis and trading tools, and a dedicated account manager. Holders of this account can choose from several banking methods and deposit at least $100 in their accounts.
VVIP Trading Account
This is an exclusive trading account meant for seasoned traders who trade huge volumes. Benefits such as free VPS, invites to exclusive events, daily market analysis, dedicated account manager, and fee free deposits and withdrawals are associated with this type of account.
Trading Platforms on Offer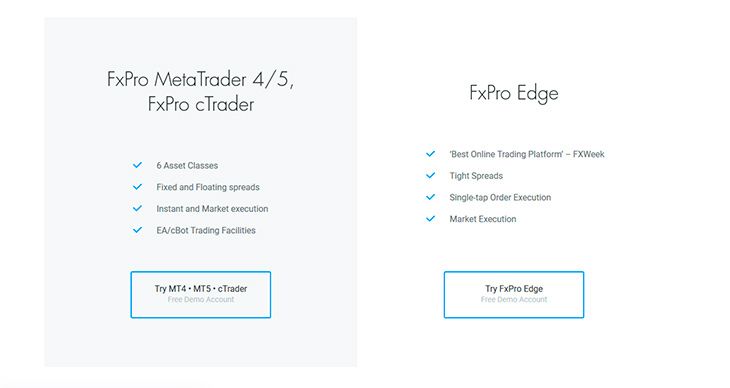 FxPro offers a number of trading options, including mobile applications as well as web-based applications.
MT4 Trading Platform – This platform combines an intuitive interface with a feature-rich environment that can be easily customized. It offers traders everything they need to place orders, manage positions, and chart assets. The MetaTrader 4 platform is available for desktop, web, iOS, and Android.

MT5 Trading Platforms – These platforms are easy to use, and traders can easily customize them to suit their style of trading. They can use MT5 to trade on international markets without having to download any software program. They can open as many as 100 charts at a time and chart assets at as many as 21 time frames.

cTrader Trading Platform – cTrader is a brand-new platform, but already has a number of satisfied traders using it. It offers the best ask and bid prices and fills in the orders in milliseconds. The user interface is quite impressive, enabling traders to view full market depth. There is no need to install any software to trade on the cTrader Web Platform. It is also available for iOS and Android smartphones and tablets.

Edge Platforms – The Edge platform totally revolutionizes the way trading is done online. It features tight spreads, over 100 instruments, and six classes of assets, all free of tax. Traders do not need to download any software in order to use this platform. It features limited risk-free account, no commissions, and the opportunity to trade on spot energies, spot metals, spot indices, shares, and forex.
List of Available Markets
FxPro customers can trade on the following markets:
Forex Trading – Trade CFDs on more than 70 pairs of currencies. Enjoy fast execution of trade orders and some of the tightest spreads in the industry.

Futures – You can trade CFDs on futures from all over the world.

Indices – The broker offers trading on CFDs on some of the top indices from Asia, America, and Europe.

Shares – FxPro offers trading on shares of over 150 international companies. The orders are executed very fast (less than 13 milliseconds) and dividend payments are available on long positions.

Metals – CFDs are available on spot metals.

Energies – Trading is available on spot energies such as WTI, natural gas, and Brent oil.
Tools that Assist in Trading
Registered users can gain instant access to the latest trading news, analysis, and trading tools that can help them to become better traders. The company features an economic calendar, an earnings calendar, a traders' dashboard, technical analysis from Trading Central, webinars & events, and Fx Pro market news. The trading tools include calculators, direct apps, VPS, tools, and a download center.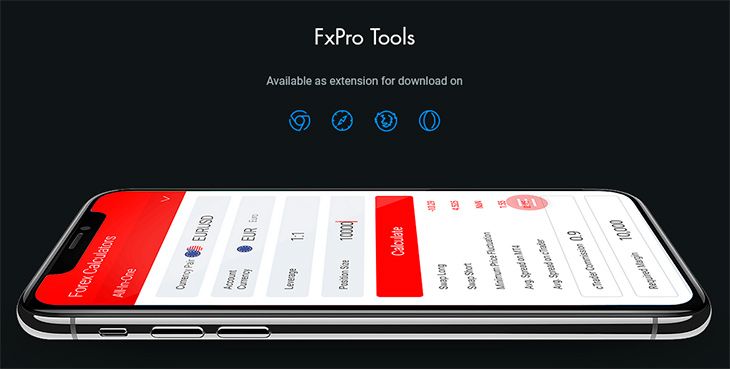 Trading Central – This is one of the top suppliers of technical market analysis. It serves more than 100 financial institutions spread across 30 countries. Traders can use the Trading Central not only to get the best trading ideas, but also to understand their trading strategies.

Market News – The Blog provides access to market insights, videos, updates, alerts, and expert market analysis.

Economic Calendar – This tool helps serious traders make a proper trading plan based on past economic events, estimated volatility, future reports, and consensus forecasts.

Algorithmic Trading – The company offers a strategy builder, which traders can use to convert their strategies into algorithms that run automatically on cTrader and MT4 trading platforms.

FxPro Calculators – These tools enable traders to calculate pip value, cTrader commission, profit, swap, and margin.

Education – You can get high-quality online trading education absolutely free of charge at FxPro.com. The online FX broker offers video tutorials, webinars, and trading events for beginners as well as seasoned traders. If you have just signed up, you can start learning the basics. When you are thorough with the basics, you can learn about trading psychology, technical analysis, and other advanced topics.

News & Analysis – This feature includes technical analysis, market holidays, earnings calendar, economic calendar, market news, and much more. In short, it offers enough information to empower you and make you a better trader.

More Tools – In addition, you can use tools such as the Trader's Dashboard, which gives easy access to all the trading widgets; FxPro VPS, a virtual server for EAs available round the clock; Download Center, which allows easy access and download of all trading platforms; and FxPro Direct App, which you can use to manage your trading accounts on the move.
Banking Information – How to Make Deposits and Withdrawals
The FxPro Wallet makes it very easy for traders to make deposits and withdrawals. You can easily, securely, and quickly transfer funds to and from your online trading accounts and wallets anytime they wish. This feature protects their balance from unexpected movements in the market while simultaneously keeping funds ready for trading.
This is how the Wallet works:
Use any of the banking methods available at the broker to load your Wallet.

Transfer funds from your Fx Pro Wallet to your trading account.

Transfer funds, including profits, back to your account.

Withdraw funds partially or completely from the Wallet to your credit card or bank account.
You can deposit a minimum of $500 at a time by using the following methods:
Bank Transfer – The time taken for the deposits to reach your account depends on the bank, but withdrawals take one business day.

Visa, PayPal, Skrill, UnionPay, and Neteller – Deposits take 10 minutes while withdrawals take one working day.
How to Get Help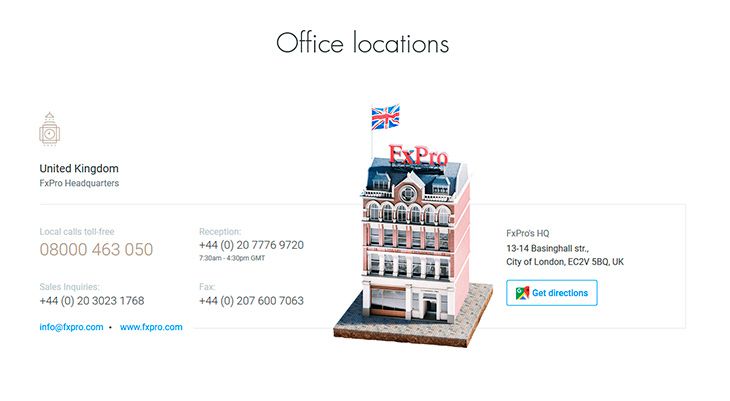 FxPro offers excellent customer support 24/5 in over 17 languages such as English, French, and German. You can get support in the following ways:
Live Chat – Click on the Live Chat Support link to open the live chat window and instantly connect with a customer support agent.

Email – Send an email to [email protected].

Telephone – Call using the numbers +44(0)203-151-5550 (international) or 08000-463-050 (UK toll-free).

Feedback – Use the online feedback form to leave behind your valuable feedback.
Before attempting to contact a customer support agent, traders can check out the exhaustive Frequently Asked Questions (FAQ) section for answers to their questions.
Frequently Asked Questions

How long do demo accounts last?
FxPro does not limit the time you own a demo account. You can use your account for as long as you wish.
Which account can I open on FX PRO?
You can choose to open a professional trading account, live trading account, and VVIP trading account. Besides, you can open a demo account for any of the three accounts.
Which platform can I use to trade?
You can choose MetaTrader 4, MetaTrader 5, and cTrader and FxPro edge trading platforms. The cTrader platform is the most recent edition of FxPro platforms.
Should I trade if I am a beginner?
FxPro has a free educational package for beginners. The package has key topics to help in understand Forex trading and an online test to assess you after completing the course. FxPro advocates for the opening of a demo account to practice the knowledge gained. Once you feel comfortable, open a real account and start trading.
Which trading tools can I find?
Once you are a registered user, you have access to trading tools such as algorithmic trading, market news, FxPro calculators, and trading central.
Which instruments can I trade?
There are over 250 instruments to trade in FxPro. You can trade CFDs on metals, energies, indices, shares and more than 70 forex currency pairs.
How do I deposit or withdraw funds from my account?
Withdrawals and deposits are done through FxPro Wallet. The wallet facilitates the transfer of funds in an easy, fast and safe manner. • To deposit funds to your account, first transfer the funds to your wallet. In the transfer, use banking methods supported by the broker. • Next, transfer funds from the wallet to your trading account. Your account will be credited and you can place your trades. • To withdraw, transfer the funds you wish from the wallet to your bank account or credit card. Payments methods available on FxPro are credit cards, bank transfers, and e-wallets such as Neteller, Visa, Skrill, PayPal and UnionPay.
Can I open a swap-free account on FxPro
Yes. You can open a swap-free account with no fee on rollover for overnight positions.
What is the minimum amount to deposit on FxPro
You can deposit a minimum of 100 dollars. However, you need to deposit at least 500 dollars to enjoy the full features of trading.
What is the maximum leverage?
Maximum leverage on FxPro is 1:500
How do I contact FxPro?
FxPro supports more than 17 languages. You can contact FxPro through telephone, email, fax, or live chat. The customer service team is available 24 hours per day for 5 days. With live chat, you can link with staff in half a minute.
Does one pay for withdrawal and deposits?
No. FxPro does not charge any fee when you deposit or withdraw. However, note that you may be charged by the bank you use for bank transfers.
Which account has VIP services?
MetaTrader4, MetaTrader5 and cTrader offers VIP services on FxPro.
Our Take on FxPro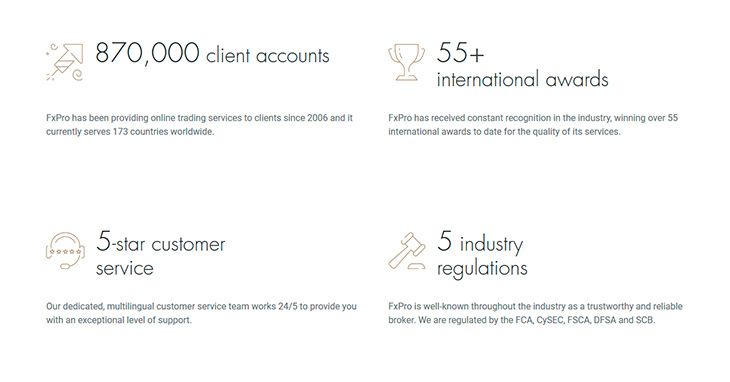 Since it has some unique features such as the FxPro Wallet, which minimizes the high risks associated with trading, an impressive video library with educational videos for beginners, and a wide range of trading tools and platforms for seasoned traders, this company is ideal for seasoned traders as well as beginners.
We suggest that you get started with a demo account to not only learn the basics of trading, but also to explore this award-winning service without taking any risks.