Summary
Founded in 2014, Olymp Trade is an online trading platform that not only presents an opportunity to earn, but also to learn. The team behind the online trading platform comprises the world's best analysts, who are fully capable of developing innovative trading strategies. They also train traders on how to successfully implement these strategies through webinars and online meetings.
Pros
• Free training for experienced traders and beginners
• Sign in with Facebook or Google+
• Trade on iOS and Android smartphones and tablets and desktop computers
Cons
• Small selection of assets
• Few trading options
Reasons for Indian Traders to Register at Olymp Trade
25,000+ users trade daily on the Olymp Trade platform

Interact with fellow traders on Facebook and YouTube

Regular contests and special offers

24/7 support in 8 languages and 15-second response time
Olymp Trade is the winner of the following industry awards: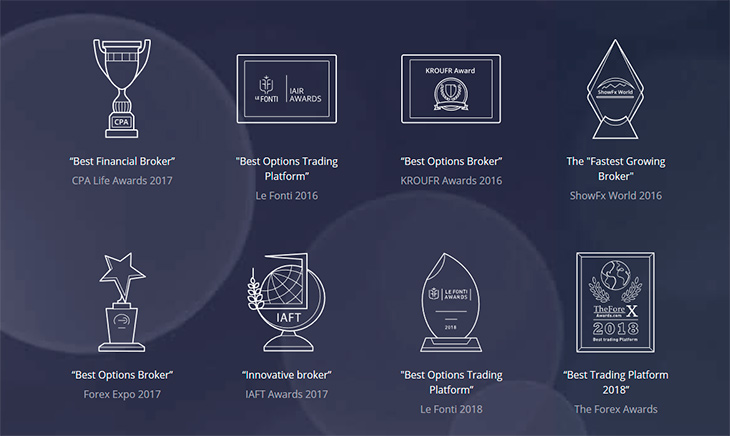 Le Fonti's Best Options Trading Platform (2016 and 2018)

"Best Trading Platform 2018" The Forex Awards

"Best traders FB community in Thailand" Traders Fair 2018

CPA Life Awards' Best Financial Broker (2017)

Forex Expo's Best Options Broker Award (2017)

IAFT Awards' Innovative Broker (2017)

KROUFR Awards' Best Options Broker (2016)

ShowFx World's Fastest Growing Broker (2016)
Here is a list of latest facts and figures we found on the Olymp Trade website:
The online broker paid a total of $13,681,062 in profits to lucky traders last month.

Its payout rate is increasing by a 7% average.

The online broker serves more than 25,000 online traders.

As many as 247,256 traders purchased trades on live accounts last month.
The online broker's turnover of last month was $171,236,104
How Olymp Trade Works – Brief Guide to Trading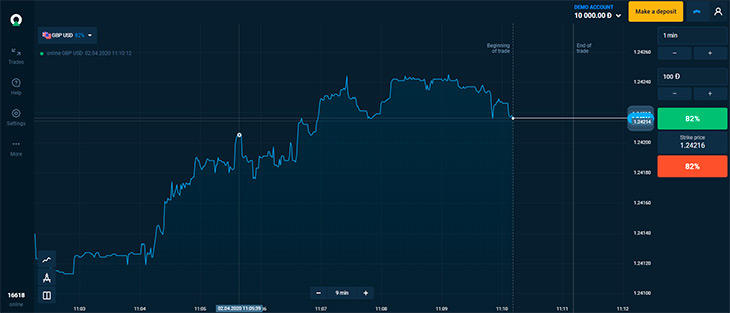 Olymp Trade offers two varieties of options:
Classic Options – Also referred to as Up Down Trades, they require traders to select not only the amount of the trade, but also its time frame.
Time Options – These present a convenient and up-to-date way of trading on active markets. Traders can open a trade by selecting the expiry time of an option. If they make the correct prediction, they can increase their profits by as much as 92 percent of the amount they invest.
You can use time options for multi-trading. You can open as many trades as you wish, but the trading platform will close them all at the same time.
Olymp Trade offers three ways to trade:
Digital Options
The steps for digital options trading are as follows:
Traders have to select the asset they would like to trade.

They have to choose the amount they would like to trade as their profits depend a great deal on the investment amount. They can make as much as 100% profits on a trade.

The next step is to choose a time frame and strike price.

The trading platform compares strike price to asset price at the closure of a trade.

Accordingly, up trades earn profits when asset price is more than the strike price and down trades earn profits when asset price is less than the strike price.

Customers have to decide whether the asset price will rise or fall.

Traders have the option of using a tool called Sell to close trades early and claim a refund before they expire.
Time Options
The steps for time options trading are as follows:
Select the Time tab and open the chart related to any asset of your choice.

The option "time left for buyout" indicates the time left for traders to purchase the option.

The option "time left for expiry" indicates the time left for the option to expire.

Traders have to choose the time of trade closure.

They have to then make a prediction.

If their prediction turns out to be correct, they will make a profit.

If they make the wrong call, it will result in a loss.
Pending Trades
Olymp Trade offers a mechanism called pending trades, which enables customers to delay a trade or make a trade only when the asset price reaches a certain level. In other words, they can buy or sell options only when their pre-determined conditions are satisfied. However, this tool can be used only for classic options.
Is Olymp Trade Reliable?
Regulation
Being an A category member of the Financial Commission, Olymp Trade is a reliable online trading platform. Those trading on the platform report that its services are high quality and that the platform delivers excellent support, quick dispute resolution, and deposit insurance to all traders. Victims of fraud can claim compensation of up to €20,000 at Olymp Trade. In addition, customers can rest assured of quick assistance in case of problems.
Olymp Trade became a member of the International Financial Commission (FinaCom) in February 2016. The FinaCom accepts as members only companies that are known for their repeated demonstration of quality, reliability, and integrity. You can view the membership certificate on the Olymp Trade website.
Getting Started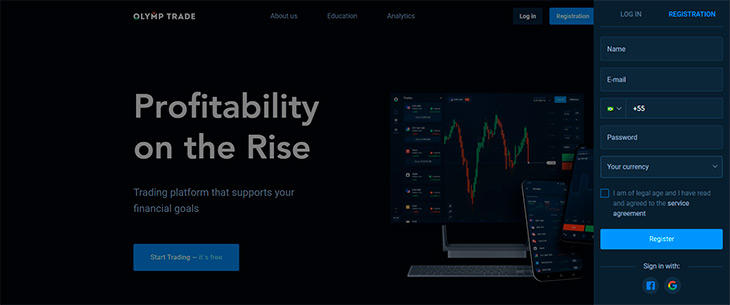 The online registration form is right on the homepage. Enter your name, email address, and mobile number. Choose your currency and create a password. Check the box to show that you are of the legal age to trade in India and that you accept Olymptrade's terms and conditions. Finally, click on the blue "Register" button.
Alternatively, you can sign in with a Google or a Facebook account.
Types of Accounts – Demo, Real Money, and VIP Accounts
Demo Account – Getting started at Olymp Trade with a demo account is highly recommended. When you create a demo account, you will receive 10,000 in virtual funds.
Real Money Account – While opening a real money account, you should deposit at least $10 in your account. You can now start trading and making profits.
VIP Account – Olymp Trade allows you to open a VIP account if you are making a lot of trades. But you have to call the number 0008000402044 for complete details. The official website does not offer many details about VIP accounts, but we gather that you can enjoy the following benefits as a VIP trader:
Up to 92% profits
Personal account managers
Risk-free trading
Private VIP webinars
Access to exclusive strategies
Open a Free Demo Account
You can get started with a free demo account at Olymp Trade. Getting started is as simple as registering an account by clicking on the Free Demo Account with 10,000 in Virtual Funds tab. You will have to input your email address, create a password, declare that you are of the legal age for trading and agree to the terms and conditions by checking a box, and then click on the yellow Register button. You can then use your free demo account to learn all about trading without risking your own hard-earned money.
Open a Real Money Account
If you want to trade for real, you have to click on the menu symbol on the top left of the Olymp Trade website and then click on the Registration link.
An online registration form will appear on your screen, prompting you to input your name, email address, phone number, and create a password. You have to then select Dollar or Euro as your currency and check the box against the declaration that you are of the legal trading age and that you agree to the online trading platform's terms and conditions. Finally, you have to click on the green Register button.
Once you have registered, you have to deposit a minimum of $/€1 to a maximum of $/€10. You are now ready to start trading. You will be pleasantly surprised to learn that you do not need to understand the complexities of trading or have in-depth market knowledge to start trading online. However, you do need some basic working knowledge of the market and you have to read the economic news regularly.
Trading options at Olymp Trade is as simple as choosing an asset, making an investment, setting a time frame for your prediction to be proved correct, predicting whether the price of your selected asset will rise or fall within that time frame, and then waiting for the trade expiry to find out whether your prediction will turn out to be correct and make you a profit.
The only downside is that you cannot delete your account if you find out that trading is not your cup of tea. You can only block it by calling +357 22007136 or sending an email to [email protected]
Become a VIP Trader at Olymp Trade
You can become a VIP trader at Olymp Trader, but you can get complete details about this only from a customer care representative. The information presented on the website is rather scanty, but one understands that VIP traders can enjoy benefits such as profits of up to 92%, personal VIP consultants, risk-free trades, exclusive strategies, and private VIP webinars.
Olymp Trade Apps – How to Play on the Move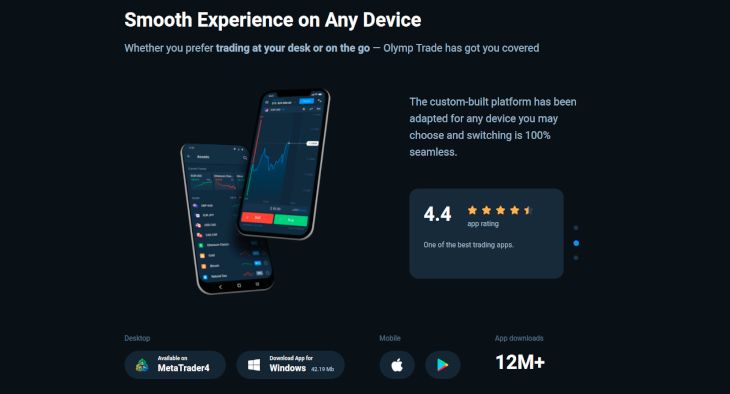 Olymp trade offers downloadable apps for iOS, android, MacOS, and windows. You can find the links in the main menu at the bottom of the Olymp Trade website. To download the app for your device, you just have to click on the relevant link.
The mobile trading platform features easy and fast registration, interactive charts, a wide range of technical indicators, and a demo account with 10,000 demo credits. Similar to the desktop and browser-based trading platform, it offers top assets, a secure online trading environment, and excellent customer support.
List of Assets at Olymp Trade
Olymp Trade offers trading on the following assets: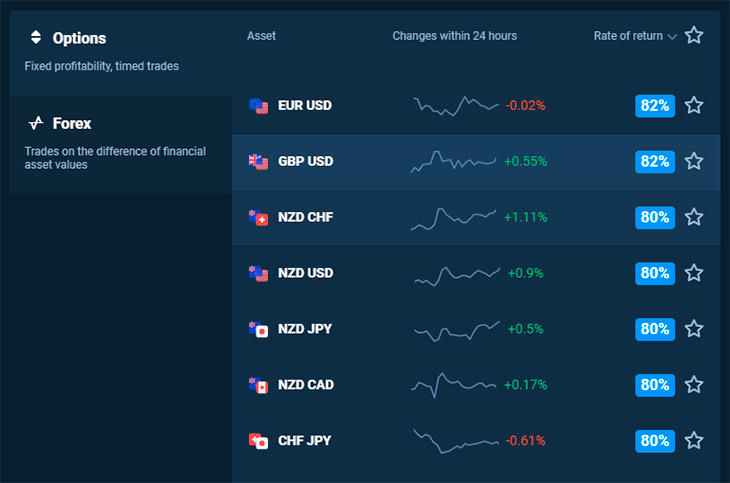 Currency pairs USD/JPY, EUR/USD, USD/CHF, GBP/USD, AUD/USD, USD/RUB, USD/CAD, EUR/RUB, EUR/CHF, EUR/JPY, and many others

Stocks on international companies such as Google, Facebook, Boeing, Apple, Coca-Cola, Tesla, IBM, Microsoft, Starbucks, BMW, Nintendo, and Visa

Commodities such as gold, silver, Brent, natural gas (NG), copper, and platinum

Indices such as FDAX (DAX), ES (S&P500), NQ (NASDAQ 100), YM (Dow Jones), CAC 40, EURO STOXX 50, Hang Seng Index, RUSSELL 2000, Nikkei 225, and FTSE 100

Crypto assets such as Bitcoin, ETH/USD, Ethereum, Bitcoin Cash (BCH), LTC/BTC, Ripple (XRP), Bitcoin Gold (BTG), Monero (XMR), Zcash (ZEC), Dash (DASH), Ethereum Classic (ETC), and Litecoin (LTC)
Features of Olymp Trade
Olymptrade offers the following exciting features:
Free Trading Education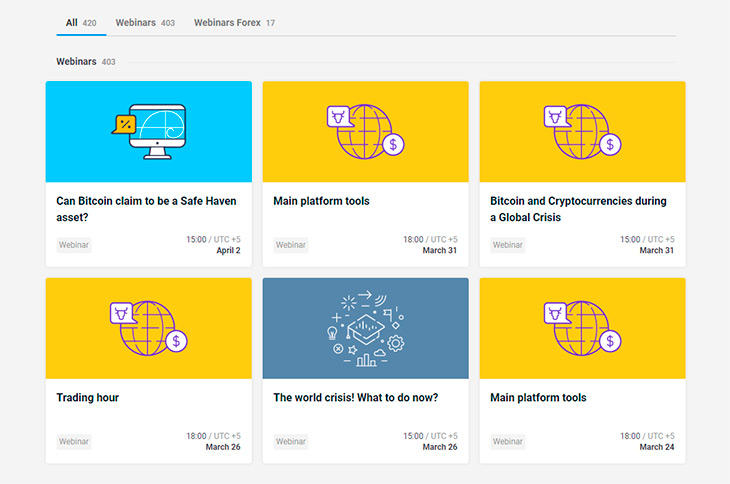 Olymp Trade is a great place to get educated. The online broker offers a total of 252 educational resources, including trend indicators, webinars, and strategies.
Trading Tools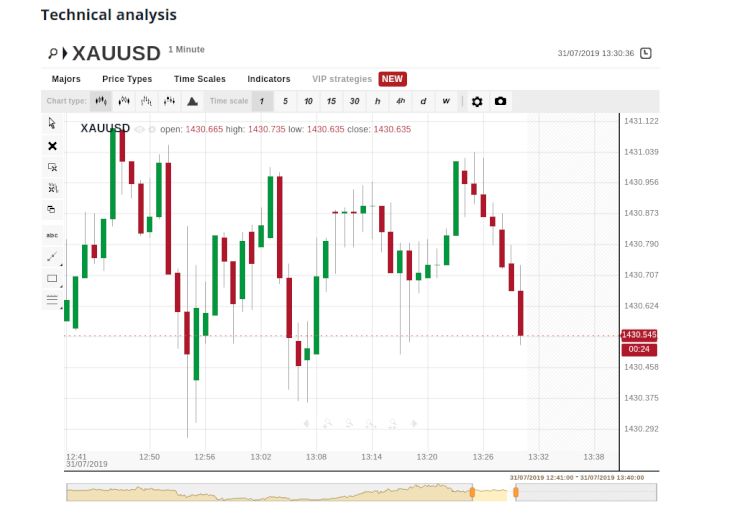 The company offers a set of effective trading tools to help you make successful trades. It is home to a real time economic calendar from Investing.com. Also, it offers trading signals, which are bits of information derived from technical analysis tools. They help traders make correct predictions and execute successful trades.
Making Deposits and Withdrawals
Olymp Trade displays its list of banking options only to registered traders. According to trader reviews, you can use a variety of methods including web wallets, credit cards, debit cards, and prepaid cards to load your account with funds for trading: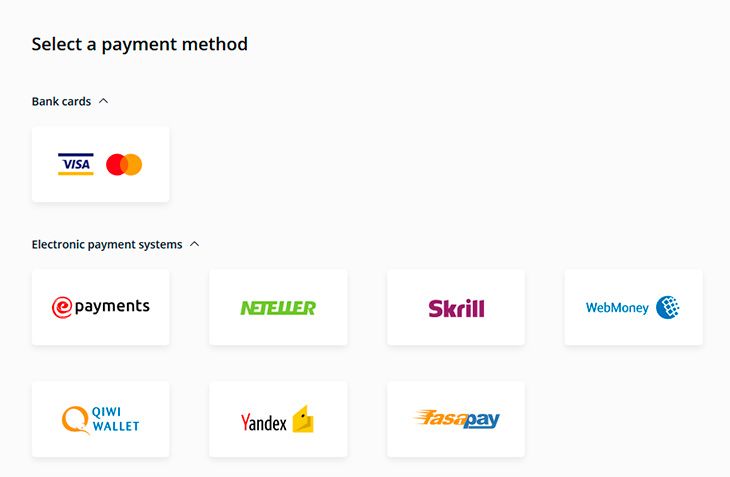 Neteller
Skrill
Visa & MasterCard credit card
WebMoney
Bitcoin
Qiwi
Yandex
To withdraw your profits, you have to visit the withdrawal page from your dashboard, input the amount you wish to withdraw, and then click on submit request. The online trading platform says its processes payout requests fast, but usually, it takes up to five banking days. You can withdraw as little as $/€10.
How to Get Help and Information at Olymp Trade
Traders who need help and information at Olymp Trade have the options of clicking on a question mark symbol at the top right of the homepage or on the Support link at the bottom of the homepage.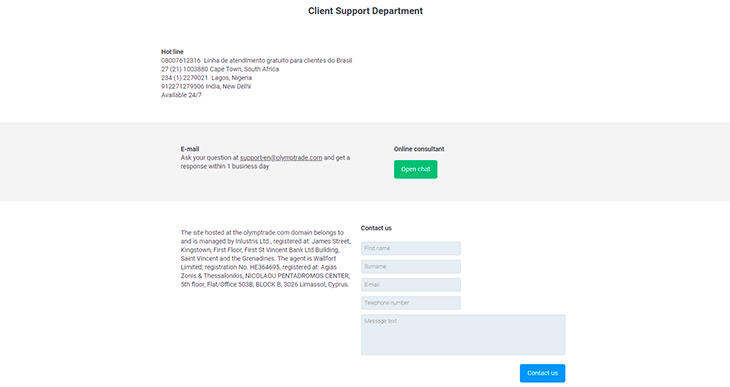 Clicking on the Support link takes you to a page that offers company information, contact details, frequently asked questions, list of assets, how to start tutorial, and a glossary. Clicking on the question mark symbol opens a side window with options such as Ask a Specialist, video tutorials, and Assistant.
If you need to contact a customer support agent at Olymp Trade, you can use the following methods:
Toll Free Number – Indian clients can use the toll-free number 0008000402044 on their mobile phones.

Email – Traders can email their questions and issues to [email protected] to get a response within one working day.

Live Chat – Click on the green Open Chat button on the support page to instantly connect with a customer support agent.

Online Contact Form – Use an online contact form on the support page.
Our Take on Olymp Trade
Our research shows that Olymp Trade is a reliable platform. We couldn't find any trader complaints on popular forums, indicating that the trading platform has mostly satisfied customers. According to figures on the homepage, the platform paid $9,449,968 to its customers in the last month and closed 36,476,772 trades during the last month.
At the same time, trading of any kind is risky, and we suggest that you understand the basics before plunging into it. Fortunately, you can get started with a basic demo account at Olymp Trade. The trading platform also provides free training, so you can also take it as an opportunity to get trained without risking your money.
Conclusion
To sum up, Olymp Trade is worth signing up at if you live in India for the following reasons:
Continuously improves its platform according to the requirements and demands of its traders

Offers free training through courses, video tutorials, and webinars

Trade on Android, iOS, tablets, smartphones, and computers

Olymp Trade apps for iOS and Android have been downloaded over 10,000,000 times.

Get returns of up to 92 percent

Learn from professional traders and get high quality trading signals

Award winning trading platform
So if you are an Indian trader who wants to start trading online, you don't have to hesitate to sign up at Olymp Trade.