TradingView is a sophisticated online financial visualization platform that is very easy to use as it is browser based. The platform includes all the data and tools that traders need irrespective of whether they are just checking out basic price charts or testing complex trading strategies.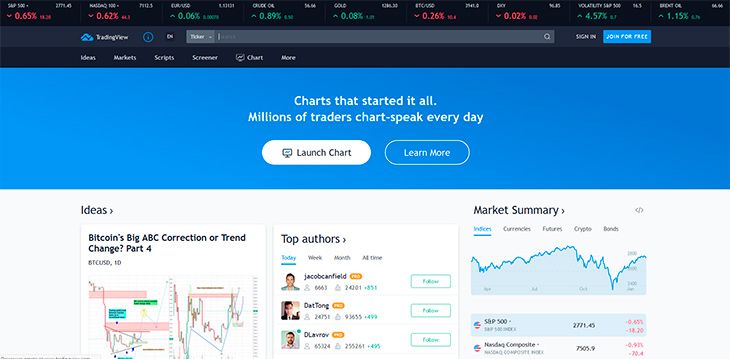 The Platform is home to an active community of millions of investors and traders from different parts of the world. Members of the community can interact with other traders, place live orders, and share and discuss investment plans. Since TradingView is mobile friendly, traders can use it on iOS and Android smartphone and tablets.
TradingView factsheet 2023
Great features for android and iOS users
The platform comes with great features to facilitate trading. Traders receive notifications on their smartphones to keep them updated about the market at all times.
iOS users can download an iOS app from the apple store and receive market alerts in their devices. Besides, there are more than 50 drawing tools to help traders in the analysis of market trends.
TradingView platform has a free trial package for 30 days. Even if not all features are available on a free trial, at least subscribers get a hint about the platform.
It's possible to open multiple charts
TradingView allows you to open up to 8 charts in a single tab in the premium version making it efficient to analyze the charts. For the free version, each tab holds a single chart.
TradingView has a networking platform where traders can exchange trading ideas. In the platform, you can chat with other traders and even acquire followers. With TradingView, you join an active community of traders from who you learn a lot.
Start with a Free Plan
For new traders and investors starting their journey.
Try For Free
Features of TradingView
The platform comes with the following features:
HTML5 Charts – Traders can use 10+ varieties of charts so that they can view markets from different angles. These charts include spread charts, kagi charts, PNF charts, line break charts, and renko charts. Traders can keep open as many as eight charts in different tabs so that they can watch different markets. The multiple symbols on the charts can be used to identify relationships between various stocks. Advanced traders can also set price scales with the help of these charts. In addition, traders can gain access to 50+ drawing tools so that they can identify opportunities and analyze market trends.

Alerts – Traders can get audio signals, visual popups, email alerts, and text messages on their mobile devices. They can choose from 12 varieties of alert conditions that can be applied on drawing tools and indicators. Since these alerts run on servers that are well backed up and powerful, traders will never miss a notification when something important happens.

Stock Screener – Traders and investors can use this tool to filter stocks according to specified metrics.

Customized Technical Analysis – Investors and traders can use 100+ in-built studies to make an in-depth market analysis. It has built a language called Pine, which traders can use to create their own signals and studies.

Trading – Traders can use the platform to practice trading, learn strategies, and sharpen their skills. They can use virtual funds without actual monetary value to practice trading till they learn to make profitable trades. Once they are ready to start trading for real, they can open accounts with any of the brokers that TradingView recommends.

Broad Market Data Coverage – Traders can get premium data on volume, prices, and history, which is directly streamed from international and US exchanges. In addition, they can check out the breaking news, make a note of their thoughts, browse the day's active stocks, and do a lot more things.

iOS App – TradingView also offers a brand new iOS app so that traders can get real-time quotes on the move, instantly respond to their private messages, and gain access to their saved charts from any location in the world. They can download this app in the Apple Store.
How Tradingview Works
The online platform is easy to use for beginners and powerful for advanced traders. You can use its charting tools whenever you want to view and share trading ideas. Since the charts are browser based, traders can conduct their research from any location without having to install any complicated software. To start using Tradingview, traders only have to open it on their browser.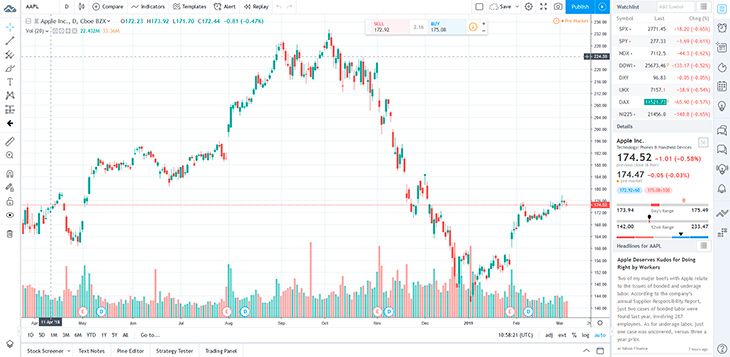 Tradingview removes the loneliness associated with trading. Once traders join Tradingview, they become part of an active trading community. They can exhibit their trading skills and share their investment ideas for the benefit of traders from different parts of the world. They can share, learn, and discuss anything and everything related to trading with thousands of other users.
The online service helps users hone their trading skills and learn new strategies just by watching other traders in action.
Traders can browse hundreds and thousands of investment ideas and actually watch historical forecasts playing out.
Tradingview encourages traders to publish their ideas on their profiles and then share them on their personal blogs, Twitter handles or any other social networking site. Expressed briefly, the online platform helps traders get noticed by trading firms and other members of the trading community.
TradingView works in four main ways:
Create – Traders can easily attach their charts on their profile pages. It is similar to inserting a YouTube video.

Share – Traders can now share their ideas with other members of the trading community and on various social networking sites.

Learn – Traders can use the platform to view live charts or annotated articles posted by the community.

Collaborate – Traders can now collaborate with firms that are looking out for powerful and simple tools.
Create Your Free Account on TradingView
Investors and traders can join the TradingView platform for free. They only have to click on the grey "Join for free" tab on the bottom of every page. They can sign up with Twitter, Google Plus, Facebook, Yahoo!, StockTwits, and LinkedIn.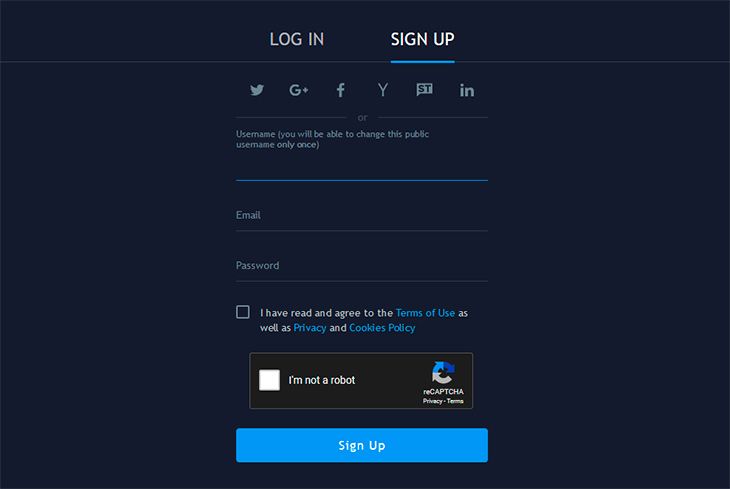 Alternatively, they can create a free account by creating a username and password, inputting their email, and checking the box against the declaration that they have read the terms of user, the cookies policy, and the privacy policy and agree to them. There is also a captcha to prove that they are not robots. Finally, they have to click on the light blue Sign Up button to create a free account.
Free Account vs. Paid Account

TradingView offers four types of plans:
Free – Traders and investors can join TradingView free of charge. However, a free account comes with limited features. When free account holders feel the need for more features, they can go in for paid plans that come with better benefits. They don't have to purchase a plan right away as each paid plan comes with a 30-day free trial.
Pro – The pro plan costs $9.95 per month. Traders can choose to get a bill every two years or pay every month. The pro plan is ideal for casual investors and traders as it includes enough tools to help them stay ahead.
Pro+ – The Pro+ package, which costs $19.95 per month is meant for serious traders who want to take their trading experience to the next level.
Premium – The premium plan, which costs $39.95 per month comes with maximum features and complete support. Traders can enjoy unlimited chart layouts, indicator templates, enhanced watchlists, and alert durations and get priority customer support.
Free Trading Ideas
Trade ideas, which include market analyses, predictions, and trade setups help traders improve their trading skills. Ideals also show how trading tools, market analyses, and trading methods work. Some trading ideas are simple while others are complex, but they are all supported by several bar styles, ample data, plenty of indicators, and drawing tools.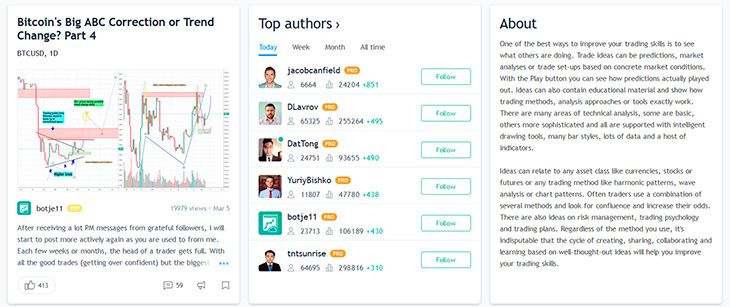 Ideas are associated with trading methods or asset classes. Sometimes traders combine different methods to increase their odds of making successful trades. Ideas are also related to trading plans, trading psychology, and risk management. Trading View encourages traders to create, share, collaborate, and learn through ideas.
Market Quotes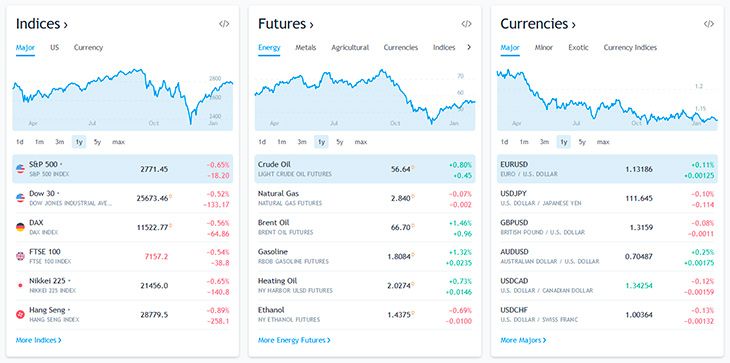 TradingView offers market quotes on the following:
Forex – One of the most popular chats at TradingView is the Forex chat, where Forex traders discuss trading ideas and market trends. Traders can also get quotes on currencies such as EUR/USD, GBP/USD, USD/CAD, USD/CHF, and AUD/USD, among others.

Futures – TradingView offers quotes on futures such as energy, agriculture, metals, indices, currencies, and much more.

Stocks – Get quotes on some of the most actively traded companies in the world. These include Johnson & Johnson, General Electric, Bank of America, Amazon, and Apple.

Indices – Check quotes on indices such as FTSE 100, Hang Seng, DAX, Dow 30, and S&P 500.

Bonds – Investors can check out quotes, news, and ideas on American, Asian, and European bonds.

Cryptocurrency – New traders can join the cryptocurrencies chat to find out what other cryptocurrency traders are talking about the cryptocurrency market. They can also check quotes on a variety of cryptocurrencies such as BTC/USD, LTC/USD, IOT/USD, and others.

CFDs – Find   quotes on CFDs on metals, agriculture, and indices.
Technical Analysis
TradingView offers more than 100 in-built technical indicators to help traders analyze markets and make informed trading decisions. The library includes over 500 customized indicators developed by members of the trading community. These are written in Pine so that they can be created from scratch and easily modified.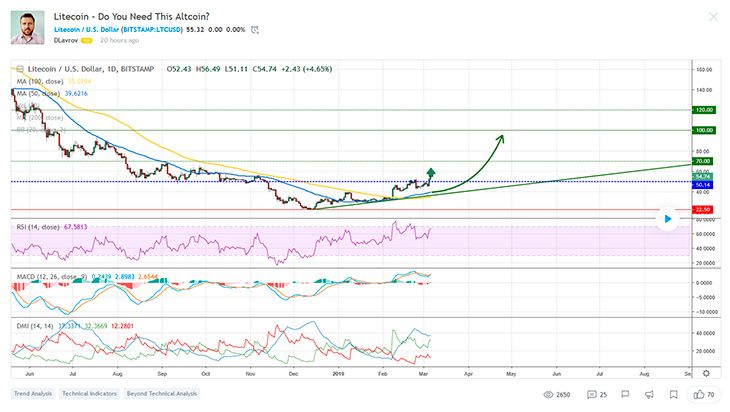 Some of the most popular indicators are Moving Average Convergence/Divergence (MACD), Relative Strength Index (RSI), Average True Range (ATR), Exponential Moving Average (EMA), and Ichimoku Cloud.
Indicators and Strategies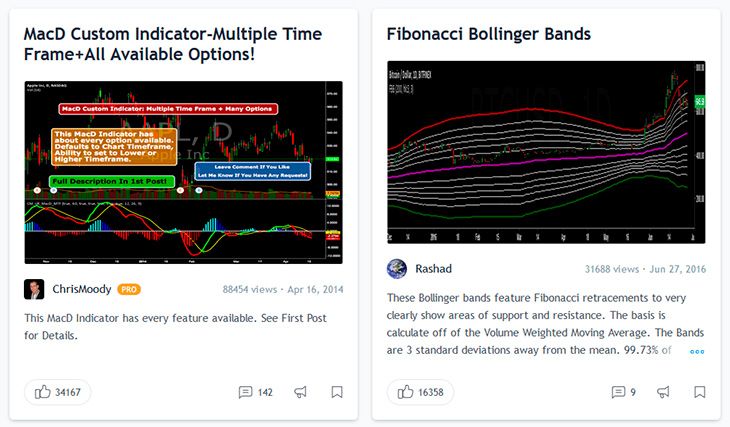 The public library at Trading View contains over 5000 strategies and indicators created by the members of its community. These strategies and indicators can be categorized on the basis of volatility, moving averages, oscillators, and volume. They are all written in Pine, TradingView's programming language, which enables the creation of strategies and indicators from scratch.
While indicators refer to calculations based on volume or price, strategies not only include calculations, but also have trading functions.
TradingView Pros and Cons

Here are three reasons to use the platform:
Traders can express their trading ideas through charts using a wide range of sophisticated drawing tools and trading tools. Initially, they may find it difficult to draw with their mouse, but they will soon get used to it.

Traders can view multiple charts at a time.

Traders can publish their trade ideas in their own names and get noticed by a huge community of other traders.
Here are some of the cons of using TradingView
It is not entirely a free platform although you can get started by creating a free account and enjoy a free 30-day trial for the paid accounts.

It is not an online broker, so traders cannot make trades on its platform.

Some users have complained that it is difficult to save their work on TradingView.
Frequently Asked Questions

Is the TradingView platform free?
A free trial package lasts for 30 days. Then, you can purchase a pro, pro+, or a premium package.
Is the TradingView platform real-time?
Yes. As a platform with millions of Forex traders, orders are placed in real-time.
Can I trade on TradingView?
You can practice trading using virtual money on the platform to refine your trading skills. When you are comfortable to start trading using real money, TradingView will recommend for you a broker to open a real account with.
How do I use TradingView?
TradingView can be utilized in the following ways • Work with companies in developing trading tools • Use the platform as a forum for sharing trading ideas • You can learn through viewing of posted live charts • You can as well attach your charts on your personal profile page
How do I join TradingView?
• To create an account, check at the bottom of any page in the site and click the grey button for joining • Fill your username, preferred password, and email address • Click to confirm that you have read and agreed with the policies and terms of use • Confirm that you are not a robot and finally click the button at the bottom to sign up for a free account • However, you can instead sign up using any of your accounts represented by the six icons which are Yahoo, LinkedIn, Google plus etc.
The premium package has top-notch features that are fully supported by TradingView compared to pro+. In short, the premium package offers everything that TradingView has for you. However, the two are similar in that you can join chats for the custom community.
Can I view cryptocurrencies on TradingView?
Yes, the TradingView platform offers quotes on several cryptocurrencies. Besides, you can chat with other cryptocurrency traders
How many drawing tools are available for me?
With all packages, you can access over 50 drawing tools. Drawing tools are critical in technical analysis to have an insight into the market.
What are server-side alerts?
Server-side alerts are placed on a particular indicator or price and once the points are reached, you receive a notification. You can pick up to 12 different alert situations. You can receive the alerts in your free version. However, the number of alerts increases with your subscription fee.
How can I reach customer support?
Customer support varies with the account. For the free version account, issues can be raised through the TradingView interface. For the Pro or Pro Plus version account, all existing means can be used to contact the support team. Premium version account receives a response in much less time compared to other accounts.
Which instruments do I get quotes about?
TradingView provides market quotes for futures, stocks, indices, bonds, cryptocurrencies, Forex and CFDs.
Conclusion
TradingView is an excellent platform for traders as well as investors. The platform has something for beginners, intermediates, as well as seasoned traders from different parts of the world. Many traders are not happy about the fact that it is not entirely free. The best strategy is to get started with a free account, try out the 30-day free trials, and decide whether you really want to purchase a paid plan and enjoy some of the unlimited features.
TradingView takes good care of its trading community by offering excellent customer support. If you are a Premium member, you can enjoy priority customer support. However, you have to log in before you can contact a customer support representative. The customer support also includes an informative Wiki and a Frequently Asked Questions (FAQ) page.
If you join Trading View, you will be well taken care of. You will also get to meet and interact with millions of talented traders, and you will find this to be an incredible learning experience.