Summary
Binomo.com is a licensed and regulated online binary options broker. The owner and operator of this trading platform is Tiburon Corporation Limited, which operates on the motto "innovative trading platform with small investment" and has its headquarters in Seychelles. However, there is another company behind Binomo.com. Called Stagord Resources Limited, this company has its offices in Cyprus.
Pros
• Trade on a wide range of assets
• Learn about trading from top quality video tutorials
• Get quotes from noted agencies
• Professional and well-trained customer support team
• Participate in promotions and tournaments
Cons
• List of assets is rather limited
• Does not mention any licensing information
You can get started with a demo account or a real money account. If you want to invest real money, you can open three different types of accounts. Binomo.com is also home to a native mobile trading app, which allows you to trade on the move.
In addition to claiming bonuses on their deposits and participating in promotions and tournaments, customers can use charts, strategies, tutorials, trading indicators, and others to make successful trades.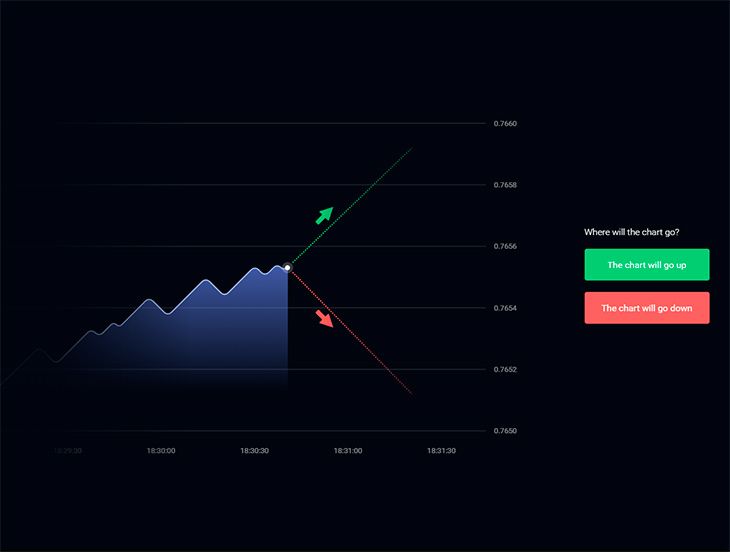 Binomo.com has featured on Forbes. The fact that it has won the IAIR Awards of 2016 and the FE Awards of 2015 further adds to its credibility and reliability. Trading at Binomo.com is easy and hassle free because of its well-designed and user-friendly proprietary trading platform. The company places a big emphasis on security as the online broker has implemented the latest Secure Socket Layer (SSL) digital encryption technology to protect traders' financial and personal details.
We suggest that new customers check out the knowledge base and tutorials at Binomo.com to gain familiarity with various trading terms and strategies.
Binomo.com Facts & Figures for 2021

Start Trading with a Free Demo Account
944 168 Traders trade daily. Financial Commission Category A. Sign up and get $1,000 in a demo account.
Try For Free
A lot of things have been happening at Binomo.com ever since its launch four years ago. We found a number of updates on the online broker's official website and the following is a compilation of the same:
Excellent Customer support
There are numerous ways to contact the customer support department. But, the most popular method is live support. This method is found on the Binomo trading platform hence you don't have to open a new window to reach the support system. The downside of live support system is not available 24/7 hours. Also, it may not be efficient during the busy days.
A wide range of assets to trade
Binomo hosts more than 50 distinct assets that you can openly trade as long as you signed up to the platform. Many traders will choose to minimize their risk by trading other out other assets. That's well catered on the Binomo platform.
The mobile app is user friendly and highly responsive giving you top-notch user experience.
Excellent deals and promotion
Traders that deposit $500 into their accounts are legible of getting assigned to a strategist to offer support and training.
A variety of accounts to choose from
Accounts available on Binomo are; standard that requires you to deposit a minimum of $10, Gold that requires you to deposit $500, and Gold that requires you to deposit $1000.
Availability of demo account
Demo account looks exactly like a real account and helps you in sharpening your trading skills. The profit and losses you make are not real.
Is Binomo Reliable?
Binomo became the International Finance Commission's A category member in May 2018. This indicates that the company is reliable and worthy of trust. It also guarantees high quality trading services, transparency, and security.
Certificate
The Financial Commission benefits traders in three main ways:
Traders are protected because the commission has a compensation fund that covers as much as €20,000 of each claim.

Traders get access to a transparent, impartial, and neutral environment when it comes to claim resolution.

Each claim is studied in detail and resolved in a quick, effective, and satisfactory manner.
Traders who want to approach the Financial Commission must first contact Binomo and explain to them the issue through an email sent to [email protected] They should also include the words "Let's figure it out" in the subject line. Binomo does everything in its power to resolve the issue in 72 hours.
If you are not happy, you can use a form, the link to which is available on the Regulation page of Binomo.com, to make an appeal for impartial resolution of the issue to the Financial Commission. Traders can send appeals only after first approaching Binomo.com and within a period of 45 days from the date of the issue.
How to Get Started at Binomo
If you are not ready to invest real money, you can open a demo account with $1000 in virtual funds and use it to learn more about trading. When you have improved your trading skills, you can start investing real money.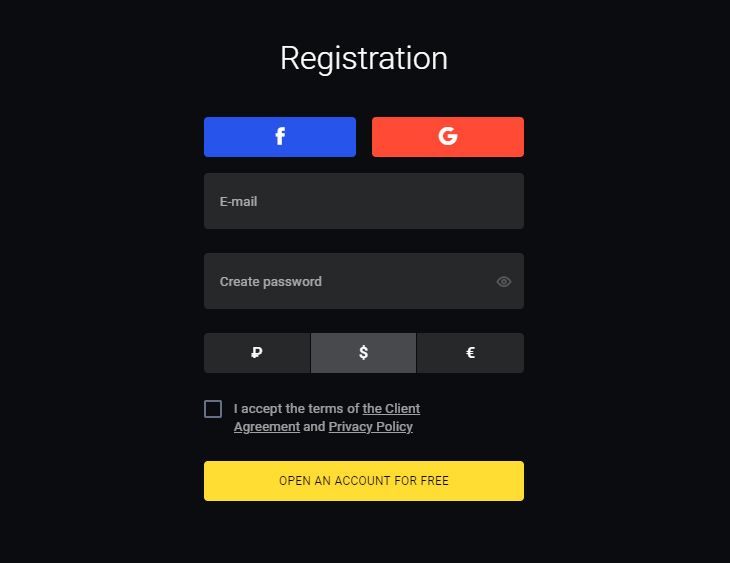 How to Open a Demo Account
To open a demo account, you have to click on the yellow "Try It" button at the bottom of the homepage. This opens a registration form on the right side of the homepage. To open a demo account, just input your email, create a password, and choose from the currencies Rupee, Euro, and Dollar. You have to then check the box against the declaration, "I accept the terms of the client agreement and privacy policy."
Finally, they have to click on the yellow button "Open an Account for Free." Alternatively, users can log in with their Facebook or G+ details.
Open a Real Account
When you open a demo account, Binomo automatically creates a real money account too. Traders can move to the real money account whenever they please.
Types of Accounts at Binomo
Binomo offers four types of trader accounts, as follows:
Demo Account

Although similar to a real money account, a demo account uses virtual funds and gives new customers the opportunity to learn more about trading and its strategies before they start investing real money.
A demo account has the following benefits:
Test the features of Binomo free of charge.

Get $1000, 50,000 rubles, or €1000 in virtual funds in your account any time you wish.

Gain complete access to all the assets, strategies, and tools at Binomo.

Excellent way to learn trading.

Get the required capital management skills for trading.
Standard Account

To enjoy the benefits of a standard account, traders have to load at least ₹5 in their accounts. The benefits of the standard account are:
Access to popularly traded assets with 85% fixed profits

Invest only $1 on a single trade

Access to tournaments

Unlimited top up

Withdraw your profits in three business days

Claim exciting bonuses

Get the required technical support
Gold Account

Customers who deposit at least ₹500 become gold account holders. As gold customers, they can access a wide range of privileges with the potential to increase their trading profits.
The benefits of a gold account are:
Gain access to more assets to trade on.

Withdrawal requests processed in 24 hours

Get trade profits of up to 86%

Bigger welcome bonuses

Get bonus insurance on your investment

Personal managers who assist with trade-related issues

Get 5% cashback every week

Gain access to trading strategies
VIP Accounts

A trader who deposits at least ₹1000 becomes a VIP trader. VIP accounts come with the following benefits:
Claim bonuses of up to 100%

Up to 87% in trade profits

Withdraw profits in less than 4 hours

Access to a wide range of assets

Get investment insurance

Exclusive VIP only features

10% cashback every week
Playing on the Go at Binomo

You can choose from two ways to trade on the go at Binomo:
Trade in Browser – This convenient method requires no app download. You just have to access your trading account with your login details and start trading in your browser just as you do at the desktop version.
Dedicated Apps – Binomo also offers dedicated mobile trading apps for iOS and Android smartphones and tablets. You can download the apps at the Apple Store and the Google Play Store, respectively.
The mobile apps come with the following features:
50 trading assets including cryptocurrencies, popular currencies, shares, stocks, commodities, indices, and others
Open a demo account on the move and practice trading
Register on the move in a minute.
Minimum deposit is $10 and transactions begin from $1
24/7 customer support
List of Assets at Binomo

You can trade on the following assets at Binomo.com:
Commodities such as oil and gold

Stocks of noted companies such as Google and BMW

Currency pairs such as GBP/USD, AUD/USD and EUR/USD

Indices such as DAX, CAC40, S&P 500

Pairs such as gold/silver
Binomo Banking Information
You have to first visit the cashier to load funds into your account. Binomo.com offers the following safe, secure, and reliable banking methods:
Visa & MasterCard

Sberbank Online

Qiwi

Union Pay

Alpha Click

Neteller

Yandex Money

WebMoney

Binomo instantly credits deposits to trader accounts. It does not charge traders any fees for making deposits. The deposit limits range from a minimum of $10 to a maximum of $10,000. Ideally, you have to use the same method to withdraw your profit to your personal account.
Traders have to visit the cashier to withdraw their profits. To make a withdrawal, they have to input the payment details and the amount they would like to withdraw. The company may require a customer to provide scanned copies of relevant documents to prove their nationality and identity. The withdrawal time ranges from 3 hours to 24 hours depending on the account type. Binomo may also charge fees, but only on certain conditions.
For example, traders who request withdrawal as soon as they make a deposit will have to pay the online broker a commission of 10%.
How to Get Help and Information at Binomo
Binomo offers complete support to its customers. Newly registered users who do not know much about trading can use the platform's knowledge base and video tutorials to learn more about trading. They can check out the Frequently Asked Questions (FAQ) section to get answers to commonly asked questions.

If they need to contact a customer support agent, they can use the following methods:
 Online Contact Form
– You can connect with a customer support agent by using the online contact form, which is available on the Contacts page. They have to input their name, email address, telephone address, subject line, and message before hitting the yellow Send button. Doing this sends their message to a customer support agent.
Snail Mail
– You also have the option of writing to Binomo at Stagord Resources Ltd. Evagorou 27, Irene Building, 4th Floor, Flat/Office 44, Trypiotis, Nicosia, 1066, Cyprus. They can also write to Tiburon Corporation Limited, Suite 1, Second Floor, Sound & Vision House, Francis Rachel Str, Victoria, Mahe, Seychelles. A map is also available at the bottom of the Contacts page to help traders find the two locations.
Skype – Send a Skype message to support.binomo

Email – Send an email to [email protected]

Social Networks – The online trading platform encourages trader interaction on its accounts on Facebook and YouTube.

Live Chat – Launch the live chat button by clicking on the red icon at the bottom left of the website. This opens the live chat window and puts you in direct contact with a trained customer support representative.
Binomo FAQs

What is Binomo?
Binomo is a European based online trading platform. This trading platform gives you excellent conditions and profits. With this platform, you can sharpen your trading skills with a demo account. Also, the account offers fast deposits and withdrawals at no cost.
How does it work?
There is no significant difference between Binomo and other online trading platforms.
Is Binomo safe?
Binomo is a legitimate trading platform that is used by thousands of traders from over 100 countries. The company is regulated by IFC (International financial commission) since May 2018. Again, the broker is certified by the CROFR. This makes the platform one of the safest trading platforms to invest in. In case of any fraud, the company may lose the license immediately.
What is the minimum deposit in Binomo?
In comparison to other trading platforms, Binomo's minimum deposit is low. This is because you only need to deposit $10. The minimum trading amount is $1. This is low since most brokers will require you to cough out $25 and a trading balance of a similar amount.
What is the minimum withdrawal in Binomo?
The minimum withdrawal amount in Binomo is $10/€10 which is also equivalent to your account currency. Due to currency fluctuations, this amount may be lower. Thus, it is important to confirm the minimum withdrawal amount in your country. You can confirm this by contacting the Binomo support system [email protected]
How long does it take to withdraw from Binomo?
The withdrawal process will take between 4 hours to 3 days. It is important to note that the amount of time taken depends on the account you hold. For VIP, it can take four hours while for a standard account it will take at least three days. Before you initiate the process, ensure you have verified your account. This is made possible when you have uploaded all the documents required for the verification process.
How do I withdrawal money in Binomo?
When you want to withdraw your earnings the process is quite simple and straightforward. You only withdraw the funds using the card or the wallet used to credit the amount. Navigate to the cashier section then to withdraw funds section. Enter the amount to withdraw.
Can we earn money in Binomo?
The answer to this question is a big yes. Binomo is an innovative trading platform that can make you earn money through the adoption of the right strategy. You must be skillful in the way you do your thing. Well, at times you might find yourself making losses but that should not make you lose hope.
Our Take on Binomo

To conclude, it would be accurate to state that Binomo is not just an online trading platform, but also an online trading tutor. It caters to the requirements of not only people who are new to trading, but also expert traders who want to maximize profits.
Since it offers so many types of accounts, there is something for all types of traders at Binomo.
So far, we haven't found any trader unhappy with Binomo's services. Customers do have complaints, questions, suggestions, feedback, and issues, but Binomo still has a large base of loyal users.
Binomo's top quality brokerage services include excellent customer support with 24/7 live chat, analytical services, and excellent educational material. Since Binomo is CROFR certified, clients can rest assured that all the risks they take are insured in compliance with the latest financial laws. So, it is definitely safe to trade on the Binomo platform, especially if you get started with the demo version.