Summary
FBS is an online forex broker with a presence in over 190 countries. It is home to a lively community of 12 million customers and 370,000 partners from different parts of the world.
Pros
• Executes thousands of profitable trades everyday
• Offers 1:3000 leverage
• Multi lingual 24/7 customer support
• Regular contests and lucrative promotions
• Up to $80 affiliate commission per lot
Cons
• No telephonic customer support
• Market coverage is limited
The special feature of this forex broker is that it organizes special events and seminars, provides educational material to help its clients make successful trades, and implements sophisticated technologies. In brief, fbs.com is ideal for professional as well as new traders.
Launched in 2009, FBS has bagged a number of industry awards, such as the following:
Best FX Broker Indonesia

Best FX IB Program

Best Forex Broker Southeast Asia

Best International Forex broker

Best Forex Broker Thailand

Top IB Program 2016

Best Customer Service Broker Asia 2016
FBS factsheet 2024
The company has a constant membership of 7,000 people daily and 13 million traders with stocks and CFDs.
The customer support and care are available 24/7 in the official English language and on the market hours, it's available in 17 different languages using different methods like phone, email, social media, and live chat.
Reduced barriers to market entry
FBS forex has a lean model that gets rid of a dealing desk and traders can enjoy the benefits of minimum deposits that starts from $5 when dealing with micro account and $1 minimum for cent account.
This is for all global members away from the EU. Zero-spread and Micro accounts run-up to 1:3000 which makes it one of the top broking companies internationally.
Wide access to trading platforms
Available platforms for traders include Trader, FBS, MT5, and MT4.
The minimum entry price to the company is $10 or $100 deposit. The floating spreads begin with a minimum of 1 pip and it lacks 0 trade commissions.
Is FBS Forex Reliable?
Traders can trust FBS as it is a reliable company with a global presence. It has offices in countries all over the world, including Malaysia, Indonesia, and China.
The company has chosen to regulate itself and has hired Center for Regulation in OTC Financial Instruments and Technologies (CRFIN), a non-government regulatory body. Although not controlled by any state or central government, CRFIN maintains the best industry standards with regard to security. So customers can rest assured that their profits, deposits, and financial details are safe and secure at the online trading platform.
You can find FBS on social networking sites such as Instagram, YouTube, Facebook, and Twitter. Clicking on the green help icon at the bottom right of the website puts you in instant contact with a customer support agent.
Start Trading on the Demo Account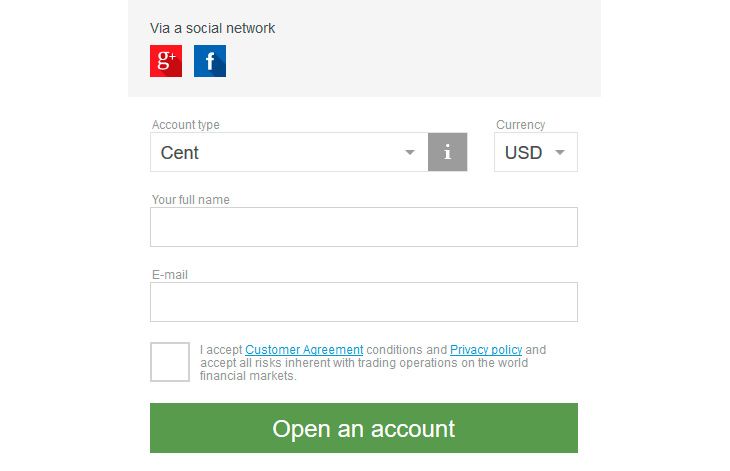 You can get started at FBS by opening a demo account. These are training accounts that enable new traders to learn more about trading and practice trading in a realistic environment without risking their own money. To open a demo account, they just have to reveal a few personal details and create a password.
Types of Accounts
You can open several types of accounts at FBS.com depending on their trading style and skill level. All types of accounts except the ECN account support trading instruments such as 4 metals, 35 currency pairs, 4 cryptocurrencies, and 3 CFD.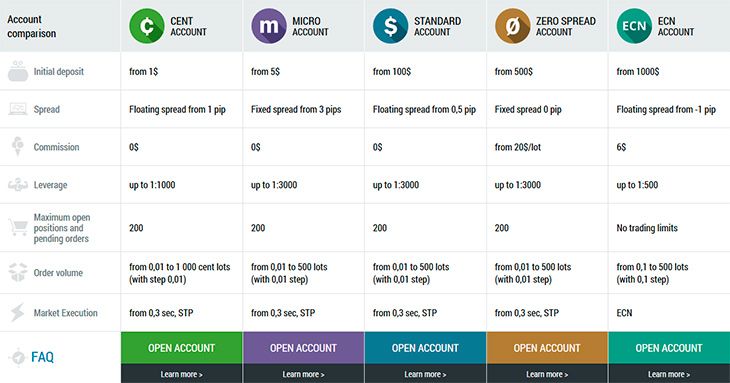 Standard Account – The broker has designed this account for experienced traders. The initial deposit is $100 and the leverage is up to 1:3000. The spread starts from 0.5 pip and the order volume ranges from 0.01 to 500 lots.

Cent Account – This type of account is meant for beginners who don't want to risk a lot of money. The initial deposit is only $1 and the spread starts from 1pip. The leverage is up to 1:1000 and the order volume ranges from 0.01 to 1000 cent lots.

Micro Account – Similar to a Cent Account, Micro Accounts are meant for traders who want to precisely calculate their profits. The initial deposit is $5 and the leverage is up to 1:3000. The spread is fixed and starts from 3 pips and the order volume ranges from 0.01 to 500 lots.

Zero Spread – This type of account is meant for traders who prefer high-speed trading. The initial deposit is $500 and the order volume ranges from 0.01 to 500 lots. The spread is fixed and starts from 0 pip. The leverage is up to 1:3000.

ECN Account – Holders of this type of account can use ECN technology for trading. The initial deposit is $1000, the spread starts from 1 pip, the order volume ranges from 0.1 to 500 lots, and the leverage is up to 1:500.
Promotions and Bonuses
The online forex broker has designed a number of promotions to make the trading experience lucrative and exciting for its clients.
The following are details of those promotions: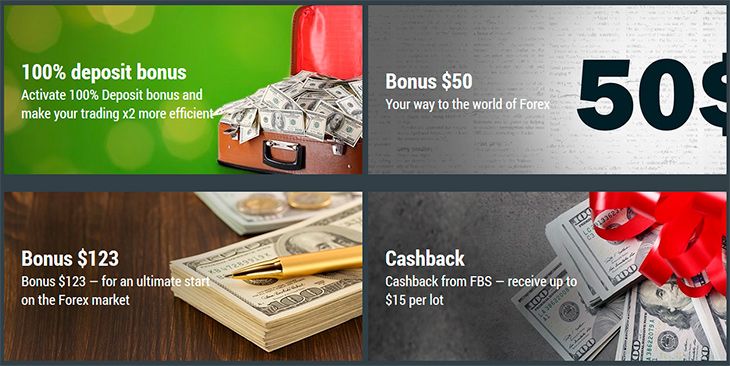 Trade 100 Bonus
You can claim a bonus of $100 and start trading. In addition, you will gain access to a comprehensive set of educational materials. You don't even have to make a deposit to start trading.
100% Deposit Bonus
Traders have to load their accounts and make a request to claim 100% bonus on their deposit amounts. This means that they can double their deposits and their profits. The bonus trading period, the promotion period, and the profit that can be earned are unlimited.
Cashback
Customers can get up to $15 cashback per lot. However, they have to first activate this offer in their personal area. Traders can withdraw their cashback any time they please. There are absolutely no limitations with regard to the promotion period, the profit, and the bonus trading period. To enjoy this extra profit, clients have to check the Cashback option in their personal area.
1:3000 Leverage
FBS is the only FX broker to offer leverage of 1:3000, but it is available only on zero spread accounts and standard accounts. If traders deposit $10 in their accounts, they can trade as if they have a bankroll of $30,000.
Trading Platforms
FBS offers the following three trading platforms: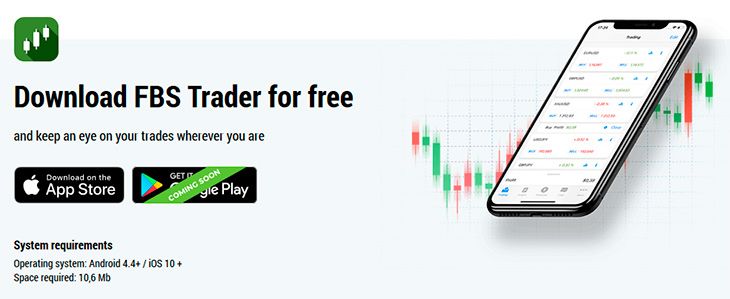 FBS Trader – The FBS Trader is a single app with unlimited opportunities. Customers can currently download it on the App Store, but it will soon be available on Google Play as well. FBS Trader is an all-in-one platform that gives clients instant access to the most lucrative trading instruments. Although lightweight, it is a powerful app that enables traders to gain access to their trades round-the-clock on their Android or iOS smartphones or tablets.

FBS CopyTrade Platform – Traders can make huge profits just by copying the trades of experts. FBS CopyTrade is a social trading platform that gives you the opportunity to adopt the trading strategies of pros, automatically copy leading traders, and earn huge profits. If traders permit others to copy their trades, they can further boost their income as the online broker will pay them for their services.
If a trader wants investors to copy them and earn commission, they have to follow these steps:
Use an existing trading account or create a brand new one.

Visit the account page.

Turn the copy parameters on.

Make trades and earn commission whenever your investors make a profit.
 MetaTrader Platforms
– FBS offers a variety of MetaTrader platforms for Mac and Windows. In addition, you can choose from a variety of apps for iOS and Android smartphones and tablets.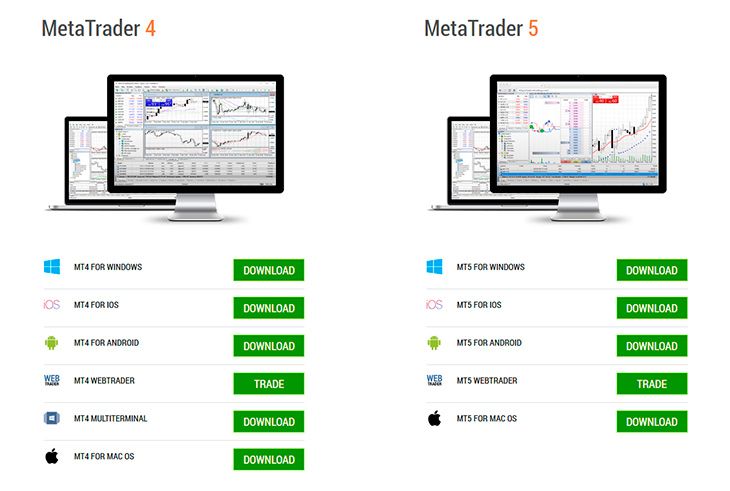 The MT platforms come with the following features:
41+ tools

Access all platforms with one account

Low spreads

One-click trading with news embedded

Fully functional Expert Advisors (EAs)

Three varieties of charts

Hedging positions

Micro lot accounts

VPS service support

Charting tools and 50 indicators
MT4 is available for Windows, iOS, Mac OS, and Android. Traders can also choose from MT4 platforms such as WebTrader and MultiTerminal. MT5 is available for Mac, Windows, iOS, and Android. Traders can also trade on their browser, without any download, using MT5 WebTrader.
Assets to Trade

You can spread your portfolio across trading instruments such as forex, metals, stocks, and CFDs.
Forex – Trade currency pairs such as AUD/CHF, AUD/NZD, CAD/JPY, EUR/AUD, and others.

Metals – Trade on metals such as gold, silver, palladium, and platinum.

CFDs – FBS.com offers trading on DAX30, WTI, and Brent Crude Oil.

Stocks – Trade on stocks of international companies such as Alibaba, Alcoa, Cisco, AT&T, Apple, and others.

Cryptocurrencies – You can trade on cryptocurrencies such as Bitcoin, Ethereum, Litecoin, and Dash.
Guide to Making Deposits
FBS offers a number of instant and zero commission deposit methods such as the following:
Visa

Neteller

Skrill

Bitwallet
You can also deposit with SticPay, but it comes with a commission of 2.5% plus $0.3. AstroPay is a zero-commission deposit option, but you have to wait for 72 hours for the funds to get credited to their accounts.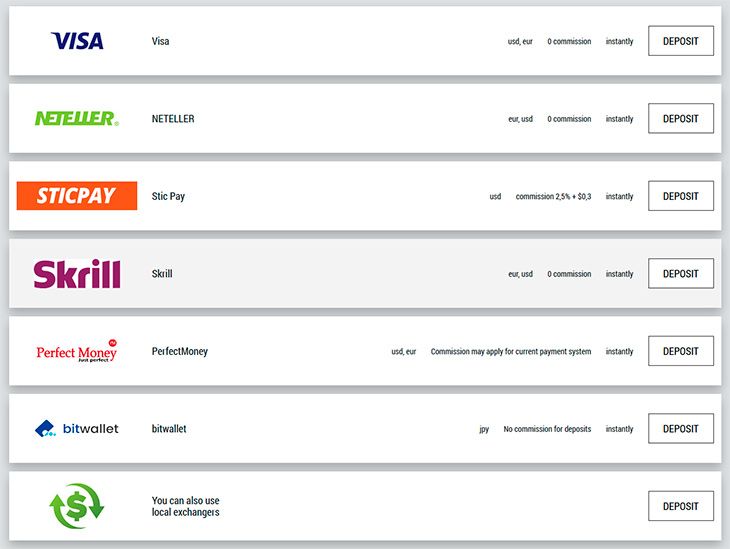 You also have the option of making deposits using local exchangers.
Guide to Withdrawing Profits
You can withdraw your deposits using the following methods. The withdrawal time frame for each of these methods is 15 – 20 minutes although it may take up to 48 hours.
Visa (commission $1)

Neteller (commission 2%, $1 to $30)

SticPay (commission is 2.5% plus $0.3)

Skrill (commission 1% plus E0.29)

Perfect Money (commission 0.50%)
Traders looking for instant withdrawal options can use Bitwallet. The commission is on the higher side (6%) for AstroPay withdrawals and the withdrawal time frame is 48 hours.
They also have the option of withdrawing their profits using local exchangers.
Analytics and Education

To help its clients make successful trades, FBS offers a variety of market analytics including Forex TV, daily market analysis, and Forex news. It also offers trading tools such as economic calendar, currency converter, forex calculator, and central bank rates.
Beginners, intermediates, as well as advanced traders can get forex education through resources such as the Forex Guidebook, Forex Books, Tips for Traders, webinars, seminars, glossaries, and video tutorials.
FBS Forex FAQ's

What is the meaning of FBS trading and how does it work?
This is a global broker that operates with up to 190 countries. The broker has 410,000 partners and 15 000 000 traders who have chosen the company as their favorite Forex trading company. Immediately you receive the free $50 bonus, you can make use of the bonus cash to trade with the brokers. All profits you receive from the bonus can be removed after trading with two lots and all the profits reach more than $25. Immediately after you do the first withdrawal, all bonus shall be canceled.
What kind of a broking company is FBS?
Financial brokerage services is an Asian Forex broker with its offices located in Russia, Vietnam, Jordan, Indonesia, Philippines, Malaysia, and China. Additionally, the IFSC in Belize is the body that regulates the company's financial components. How long can I wait for the withdrawal to take place? The average waiting time during the withdrawal/deposit using an electronic payment mode is up to 2 business days since its creation time. Consequently, bank wire transfers can take up to 7 days to be processed.
Is there a way I can remove my FBS 100 bonus?
Yes! The process is easy. You can simply remove all the profits gathered on trading using bonus funds in the $100 amount. If you want to withdraw the profits away from the 100$ bonus, you must first fulfill the following requirements. There must be a one month active trading with the brokers.
What are the minimum deposits needed on FBS?
One major reason that makes traders opt to trade with FBS is due to their low conditions to venture into other markets. However, the least deposit required to have an account is $1 and there are two kinds of accounts that are available for younger traders that include the Micro accounts and Cent.
How can I deposit funds into my account?
To make a deposit you can use Visa, Skrill, Neteller, Stic Pay, Perfect Money, and Bit wallet.
What trading methods does FBS allow?
FBS broking Company provides the most suitable trading conditions with the capability to use all the trading methods with no restrictions. Alternatively, an automated trading system can be used with assistance from hedging, scalping, and expert advisors.
What are the assets you can trade on FBS Forex
The financial assets available for trading with FBS Forex are forex, metals, CFDs, Stocks, and cryptocurrencies.
Is FBS Forex regulated?
FBS Forex is not regulated by a governmental regulatory body. It's self-regulated.
Overall Rating – Is FBS Forex a Good Broker or not?

Having spent some time on the trading platform and used amazing features such as the FBS Trader and the FBS CopyTrader, we definitely feel that FBS Forex is worthy of recommendation.
You can get started with a demo account or you can opt to take low risks by opening a Cent Account or a Micro Account. You can copy trades and earn more profits. Or you can allow others to copy your trades and earn commission. If you don't know much about trading, FBS.com can teach you everything you want to know about it.