Summary
ExpertOption (EO) is an online trading platform that is available on Web as well as through desktop and mobile apps. It went live in 2014.
Pros
• Features desktop and mobile apps with full functionality
• Multiple types of accounts including VIP accounts and demo accounts
• Covers 100+ assets and continuously adds new financial instruments
• Customer support in multiple languages
• Exhaustive education center with free educational material
Cons
• Does not accept players from US, EU, Israel, Australia, North Korea, • Sudan, Canada, Switzerland, New Zealand, Japan, Puerto Rico
• Options are short term
• 24/7 customer support is available only in English
The parent company is ExpertOption Services Limited and has its headquarters at S.I.P Building, P.O. Box 3010, Rue Pasteur, Port Vila, Vanuatu. The Vanuatu Financial Services Commission has granted license number 15014 to ExpertOption Services Limited to offer online trading services to customers from different parts of the world.
Four of the biggest selling points of the company are its top-quality customer support, reliability, speed, and simplicity.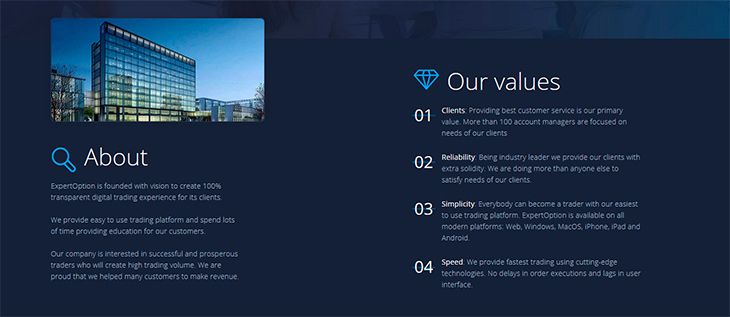 EO is special as it has created its trading software platform in house. Although it hasn't mentioned facts about awards won on its website, the online broker bagged the Best Trading Platform award at the China Trading Expo, which was held in 2017 at Shenzen.
Key Features
The platform has the following features that make online trading very easy even for beginners.

The financial service has implemented the latest technologies to avoid delays and lags. Customers can access the trading platform throughout the day and every day, including weekends. Customer support is available round the clock and the online trading platform introduces new financial instruments regularly.
Social Trading – Traders can trade with their friends and family members and observe them making trades in real time. They can also use this feature to analyze the trading behavior of top traders and learn their strategies. They can follow Olympic Trade on social networking sites such as Facebook, YouTube, Twitter, and Instagram.

Technical Analysis Tools – You can make use of eight indicators, four types of charts, and trend lines.

Mobile Apps – Expert Option mobile trading apps for iOS and Android are the best finance apps in around 47 countries worldwide. They come with complete features and have already had more than one million installs. While owners of iOS devices can download their apps at the Apple Store, owners of Android devices can download their app at the Google Play Store.

Desktop Apps – Although they have the option of browser-based trading, customers can download the desktop apps for MacOS and Windows for instant access, convenience, top performance, and excellent market analysis.

Web Platform – The demo account is available on the web platform. Just click once to practice trading with $10,000 in virtual funds. It is easy!
Is ExpertOption Reliable?
Traders can trust this financial service just for its transparency. The online trading platform provides complete information about its licensing body, parent company, values, and location on its website. This ensures that customers know exactly who they are dealing with.
Regulation
The company focuses on providing high quality customer support. It has 100+ account managers who work for the welfare of its customers. It is not just an online trading platform, but also a place where newcomers can get adequate trading education.
Moreover, ExpertOption works with almost all platforms in the industry, including MacOS, Windows, Web, iPad, Android, and iPhone. While trading on this platform, you will not experience any delays or lags because it has implemented the latest technologies.
Here are some reasons that make the company reliable:
VFSC government financial commission licensed and regulated

Visa and MasterCard verified

Uses latest data encryption technology

Top analytical agencies supply real-time market information

Over 11 million accounts registered on ExpertOption

Executes over 30 million deals every month

Trading services are available in multiple languages, including Hindi, English, Portuguese, Spanish, Turkish, and others.
How to Get Started
New customers can get started at this trading platform in two ways.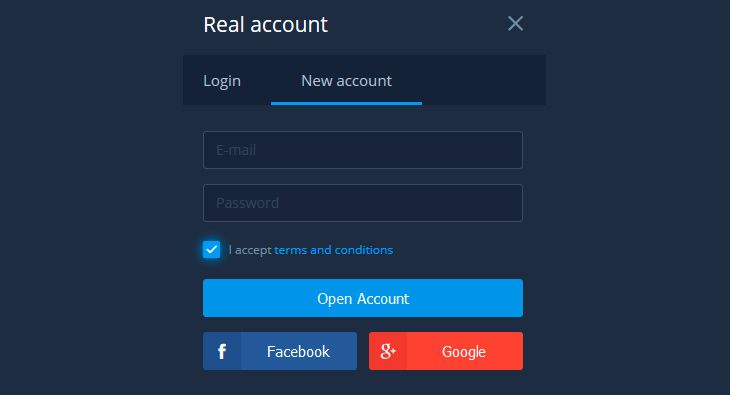 Open a Demo Account
This is as easy as clicking on the "Demo Account" button on the homepage. This takes them to the trading page and automatically opens a video tutorial that teaches them how to trade. They will also get $10,000 in virtual funds in their account.
Open a Real Account
Whenever traders feel like opening a real account, they can click on the green "Open Real Account" button at the top right of the homepage. This opens a simple online registration form, which prompts customers to input their email address and create a password. They have to then check the box against the declaration, "I accept terms and conditions" before clicking on the blue Open Account button at the bottom of the registration form.
You can just log in through your Google or Facebook account, and you're in!
Once they have created their accounts, traders have to verify their email address by clicking on a link in the online broker's welcome email. They can then log in with their email address and password, load their accounts and start trading.
VIP Program
ExpertOption has a VIP Program to reward traders who deposit more funds and trade more. This VIP Program has the following levels: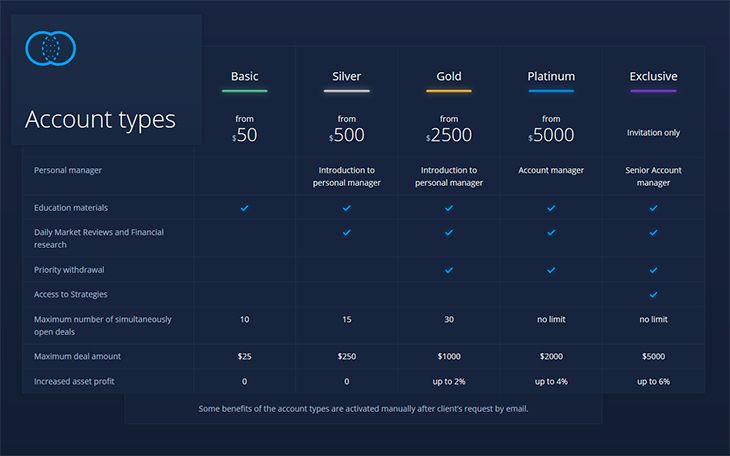 Basic – This level is meant for new customers who want to learn more before investing more money in trades. If a newly registered trader deposits $50, he/she becomes a Basic trader at Expert Option.

Silver – Most traders start at the Silver level by depositing at least $500.

Gold – Customers should deposit at least $2,500 to become Gold traders and enjoy a slew of benefits.

Platinum – You achieve the Platinum level if you deposit at least $5000 in their accounts.

Exclusive – This is the highest level, and customers can achieve it only on invitation. If interested, you should request your personal account manager for more information.
Depending on their VIP level, traders can enjoy the following benefits:
Personal managers

Education material

Daily financial research reports and market reviews

Withdrawals on priority

Access to various trading strategies

Open anywhere between 10 and unlimited deals simultaneously

Invest anywhere in the range of $25 to $5000 on a trade

Earn increased asset profit up to 6%
List of Assets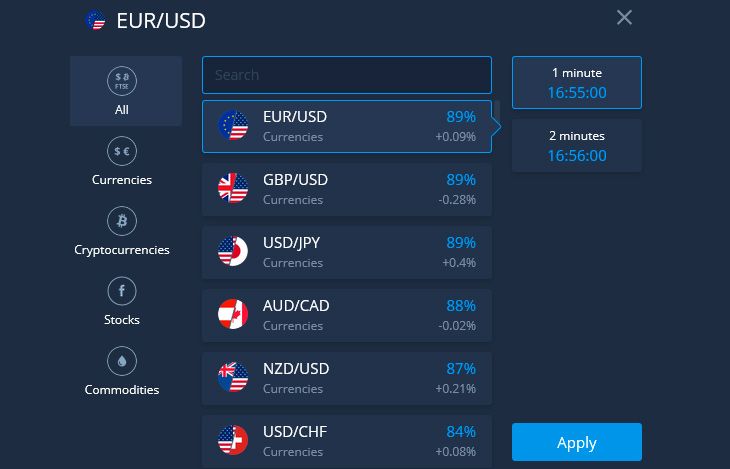 ExpertOption offers 100+ assets to choose from. These assets include equities, commodities, Forex, and cryptocurrencies. You can trade on currency pairs that include all major currencies such as USD, AUD, NZD, GBP, CHF, EUR, and CAD.
The equity instruments include noted companies such as Tesla, Coca-Cola, Facebook, Baidu, and Amazon. You can also trade in commodities such as oil, silver, and gold.
As far as cryptocurrencies are concerned, ExpertOption appears to focus on them. As a result, you can trade in pairs that include major cryptocurrencies including Ethereum, Bitcoin, Tether, Ripple, Bitcoin Cash, Monero, IOTA, Litecoin, Bitcoin Gold, Dash, Litecoin, Dash, and others.
Banking Information
You can use a wide range of payment methods including credit/debit cards, prepaid cards, electronic wallet services, and others to load their accounts. You can deposit a minimum of $50 in your account. While trading, you have to invest at least $1 in a single trade although you can go up to $5000.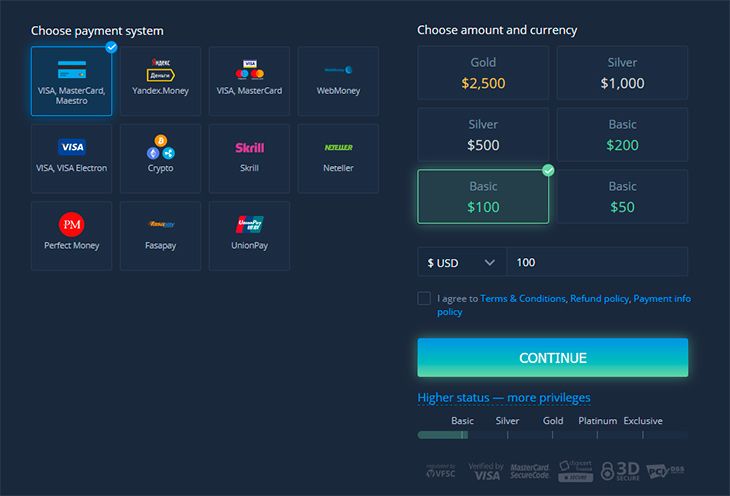 Customers can request a withdrawal from their personal zones. Once ExpertOption receives a withdrawal request, it assigns the status label "Requested" to it. When the online broker starts processing the request, it gives it the status label "In Process." When this happens, the company removes funds from the trader's account. It then credits the money to player accounts through their preferred payout method.
Once this takes place, the request then gets the status label "Processed." ExpertOption may take up to two days to process the payout request. You can withdraw a minimum of US$10.
While making a withdrawal request for the first time, registered customers have to send scanned copies of relevant documents. The exact nature of these documents varies from one withdrawal method to the other.
How to Get Help and Information at ExpertOption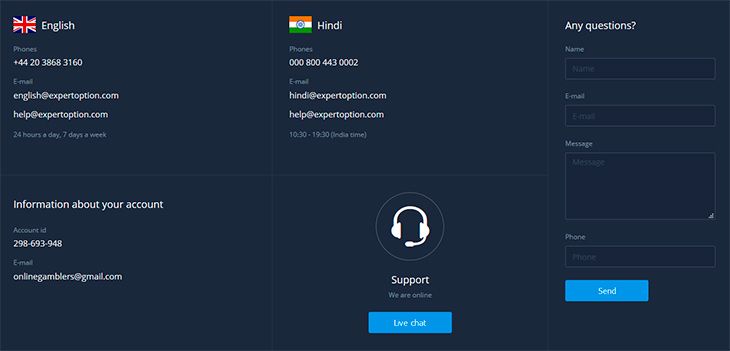 ExpertOption takes excellent care of its registered customers. It not only provides a safe and secure online trading platform, but also teaches newcomers how to trade. It includes an education center with a glossary, trading strategies, graphical analysis, technical analysis, trading psychology, and fundamentals analysis.
Whenever customers need support, they can use Expert Option's 24/7 customer support area.
While support is available in English round the clock, it is available in Hindi between the hours of 10:30 and 19:30 India time. You can use the following methods to get in touch with a customer support agent:
Phone – Contact the company by calling the number +44-20-3868-3160 or 000-800-443-0002 (for support in Hindi).

Email Address – Email your doubts and questions to [email protected] or [email protected] (for support in Hindi).

Online Chat – Click on the "Online Chat" button to instantly connect with a customer support agent.

Online Contact Form – Input your full name, email, address, message, and phone number and then click on the blue Send button to send your message to the company.
Our Take on ExpertOption
Expert Option offers an online trading platform that is easy to use, especially for beginners as it includes plenty of educational material that can teach them the basic strategies of trading. Although it offers several types of accounts with special benefits for traders who deposit more, financial experts advise beginners to get started with smaller deposits as trading is an activity that is subject to market risks.
If you have never traded before, we suggest getting started with the demo account. The online trading platform is home to millions of satisfied customers from different parts of the world, and we couldn't find any negative player feedback on any trading forum.