Summary
Binary.com is an online trading platform that went live in 2000. It has been serving traders from different parts of the world with reliability and integrity ever since.
Pros
• No hidden commission or fees
• Withdraw anywhere in the range of $1 – $50,000
• Trade all major commodities, indices, volatility indices, and currencies
• More than two billion dollars in trades
• Award winning online trading platform
Cons
• Does not offer any bonuses
• Does not run any trading tournaments
• Not available to traders in some countries, including the US
The online broker has received a license in Malta and the British Isles. You will find the trading platform to be incredibly simple and user friendly. You can easily find the right trades for all market conditions, make traders in a matter of seconds, monitor your portfolio, and sell trades at market rates.
Binary.com Facts & Figures of 2023
A look at Binary.com's Why Us page revealed the following data:
Traders can select payouts starting from $1 to 50,000 and time durations that range from 10 seconds to 1 year.
Binary.com features a patented technology that gives its traders equal rates of returns like interbank market traders. They include all returns that exceed 100% on fall/rise returns and contacts that exceeds 1000% on no-touch/touch and lower/higher trades.
The company delivers withdrawals and deposits within 24 hours and traders should understand that their banks or money transfer services can call for extra time for processing.
The company accepts traders from the United Arab Emirates, Qatar, South Africa Kuwait, Saudi Arabia, Germany, Norway, France, Sweden, India, Singapore, and Many Other Countries. Traders from Malaysia Iran, The U.S, and And Hong Kong can't use Binary.com.
There are numerous choices when it comes to payment methods linked to this company. You can use 2 major credit cards and 3 trading accounts. Cryptocurrencies are also accepted. When it comes to funds withdrawal, the whole procedure can take up to 5 days to be successful.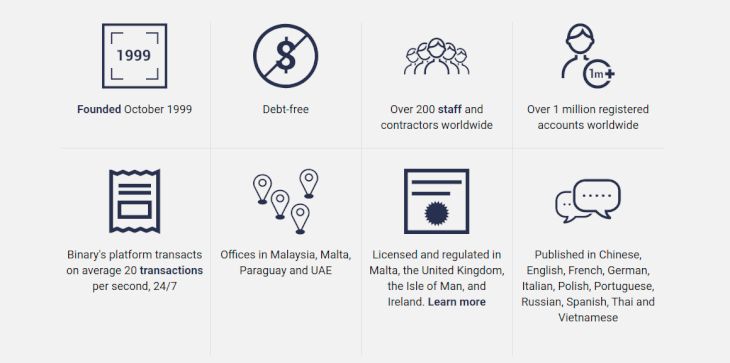 Your funds are safe at Binary.com as the online broker keeps them in separate banking accounts.
Start Trading with a Free Demo Account
Trade 24/7, even on weekends. Trade Stocks, Forex, Options and Crypto.
Try For Free
Is Binary.com Reliable?
The company has to its credit more than two billion dollars in trade. Owing to its simple, but effective trading platform, excellent customer support, and unique binary trading technology, it is the recipient of the following industry awards:
Best Fixed Odds Broker Silver Award (2010) from Trade2Win

Best Fixed Odds Firm (2012) from Global Banking and Finance Review

EGR Operator Award (2015) from EGR Operator Awards

Best Binary Options Broker (2016) at the 16th MENA Financial Forum & EXPO

Best Binary Options Broker (2017) from Online Personal Wealth Awards

Best Binary Company Asia Pacific (2018) from Global Banking & Finance Awards

Best Trading Platform in Asia (2018) from Global Brands Magazine
Binary.com enables its customers to know the potential reward and risk of their trade even before they hit the purchase button. If they select a payout, Binary.com will automatically calculate the stake they need to purchase the trade. Traders will have to risk only their initial trade as it will never increase. They can also sell their trade prior to its expiry date to either make profits or minimize their losses.
EU Passport Rights
Traders can trust Binary.com. In the first place, this online broker serves more than 1,000,000 traders from all over the world. It has also obtained multiple trading licenses in a bid to comply with the laws of different countries. Ever since its launch in 1999, the company has been maintaining the best industry standards.
The registered office of Binary Limited, the parent company of Binary.com, is at 47 Esplanade, St Helier, Jersey JE1 0BD, Channel Islands. Among its subsidiaries are Binary Investments (Europe) Ltd for EU traders; Binary (C.R) S. A., licensed in Costa Rica for international traders; Binary (V) Ltd for traders from the rest of the world, licensed by the Vanuatu Financial Services Commission; Binary (BVI) Ltd, licensed by the British Virgin Islands Financial Services Commission; and Binary (FX) Ltd, licensed by the Labuan Financial Services Authority.
All the personal and financial information that traders reveal at Binary.com is safe and secure.
Binary.com uses this information only to provide better services and never shares it with third party companies or individuals. The trading platform has a sound privacy policy that it displays on its terms & conditions page.
Binary.com also warns its users that trading, though an exciting activity is associated with serious risks. The online broker encourages users to trade in a responsible manner and undergo self-analysis regularly to determine if they are in control. Binary.com also offers tools such as setting limits and self-exclusion to help its traders stay in control.
Accordingly, traders can set limits on amounts traded in a particular time frame, on losses incurred in a particular time frame, and on trading sessions. They can also request Binary.com to exclude them from its services for definite or indefinite periods of time.
The online trading platform is also home to a patented pricing technology to gives its users the benefits of the same returns as interbank market traders. Binary.com traders can, therefore, enjoy more than 100% returns on simple rise/fall trades, touch/no-touch trades, and higher/lower traders.
How Binary.com Works
The most unique feature of Binary.com is the available of multiple platforms for beginner and advanced traders. Online traders can, therefore, select a trading platform that best suits their trading strategies and level of expertise.
Beginners can check out the following apps, tools, and trading platforms:
SmartTrader – This is a user friendly and simple platform that allows traders to trade in financial markets.

Binary Tick Trade App – This app allows you to trade really fast irrespective of your geographic location.

Ladders – This is Binary.com's multi-barrier platform, which enables trading in FX binary options.

Charting Platforms – These platforms allow traders to analyze financial data and predict correct movements in the market. Traders can choose from TradingView, a powerful technical and charting analysis, and SmartCharts, an interactive charting tool that features excellent visuals and useful trading tools that help traders analyze financial markets.
Advanced traders can check out the following tools, apps, and platforms:
Meta Trader 5 – This is a multi-asset platform that enables trading in CFDs, binary options, and Forex.

Binary WebTrader – Traders can use this interface to monitor several favorite market and asset movements simultaneously.

Binary Bot – This is a "drag and drop" auto trader tool that enables automation of trading strategies.

Charting Platforms – Advanced traders can use these charting platforms to analyze market data while predicting price movements. They can choose from TradingView for Binary.com or SmartCharts.
Binary.com directs beginners to a trading screen, where they can establish their trading parameters and select what, when, and how they would like to trade. The steps are as follows:
Select a market

Select a barrier

Use the 2-way pricing feature to change a parameter to change the trading price instantly

Click the Purchase option to register the trade

The Binary.com software updates the price in real time

Exit the trade before its expiry time
Confused new traders can use the Binary.com platform to get daily market research reports and trading webinars. They can contact a customer support agent through telephone or email. They can also visit the Binary.com Academy and check out the latest news, daily reports, video tutorials, learning center, and Binary TV there. There is plenty to learn about trading at Binary.com as it is not just an online trading platform, but also a trading school.
Guide to Getting Started at Binary.com

If you are new to Binary.com, we suggest that you click on the Get Started link in the main menu on top of the Binary.com homepage to get started. You will be taken to a page that displays a comprehensive guide on binary options, lookbacks, and MetaTrader 5. New traders can use this information to get started at Binary.com. The next step is to create an account at Binary.com.
Creating an account is as simple as clicking on the green Create Free Account button on the Get Started page. When traders do so, they will be taken to a page, which prompts them to input their email address and click on the green Create Free Account button. Alternatively, traders can create an account with Google.
List of Assets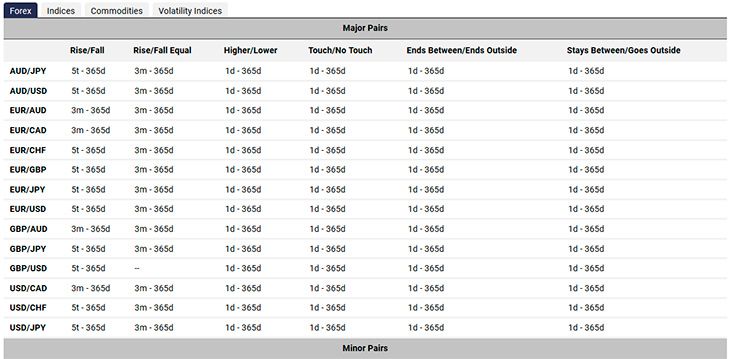 You can trade in the following six financial markets at Binary.com, choosing from more than 100 tradable instruments:
Binary Options – These offer fixed payouts based on yes/no propositions.

Forex – Trade on minor, major, as well as exotic pairs of currencies.

Cryptocurrencies – You also have the option of trading pairs of cryptocurrencies including Litecoin, Ethereum, and Bitcoin.

CFDs – These financial derivatives enable traders to trade on price movements of various assets.

Metals – Trade on the price of precious metals such as platinum and gold.

Lookbacks – These options allows traders to "look back" on highs and lows in the market in order to determine payouts.
Banking Information
Binary.com processes deposits and withdrawals in just 24 hours. But traders should note that their fund transfer services or banks may require extra processing time for which Binary.com is not responsible.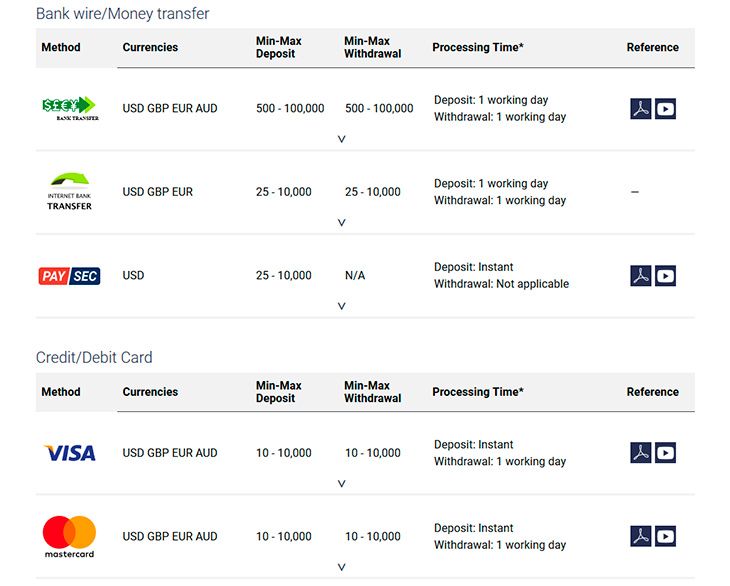 The following are details of the banking options at Binary.com:
 Bank Wire/Money Transfer
– Traders can use bank wire or money transfer methods such as Bank Transfer, Internet Bank Transfer, and Pay Sec.
Bank Transfer – The supported currencies are USD, EUR, GBP, and AUD. Traders can deposit/withdraw a minimum of 500 to a maximum of 100,000. Binary.com processes deposits as well as withdrawals in one working day.

Internet Bank Transfer – The supported currencies are EUR, GBP, and USD. Traders can deposit/withdraw a minimum of 25 to a maximum of 10,000. The processing time is just one day.

Pay Sec – The supported currency is USD and the minimum/maximum deposit limits are 25/10,000. Pay Sec deposits are instant, but traders cannot use it for withdrawals.
 Credit/Debit Card
– Traders can deposit/withdraw 10 – 10,000 in USD, EUR, AUD, and GBP. While Visa and MasterCard deposits are instant, the withdrawals take up to one working day.
 E-wallet
– Binary.com supports eWallets such as FastPay, Perfect Money, Skrill, WebMoney, Neteller, Qiwi Wallet, and PaySafeCard. The supported currencies and the minimum/maximum deposit and withdrawal limits vary from one method to the other. While deposits are instant, withdrawals take up to one working day.
 Cryptocurrencies
– Traders can use cryptocurrencies such as Bitcoin Cash, Bitcoin, Litecoin, Ethereum, and Tether for deposits and withdrawals. While deposits require three blockchain confirmations, withdrawals take one working day.
Excellent learning center – the Binary Academy
Binary.com takes good care of its traders, especially the new ones. If you are brand new to trading, this is the best online trading platform for you. This is because Binary.com offers an excellent learning center called the Binary Academy, which includes plenty of learning resources such as weekly market updates, weekly trading signals, commodities corner, learning resources, Binary TV, video tutorials, webinar videos, and others. As a new trader, you can learn everything from Binary.com and become a trading expert in no time.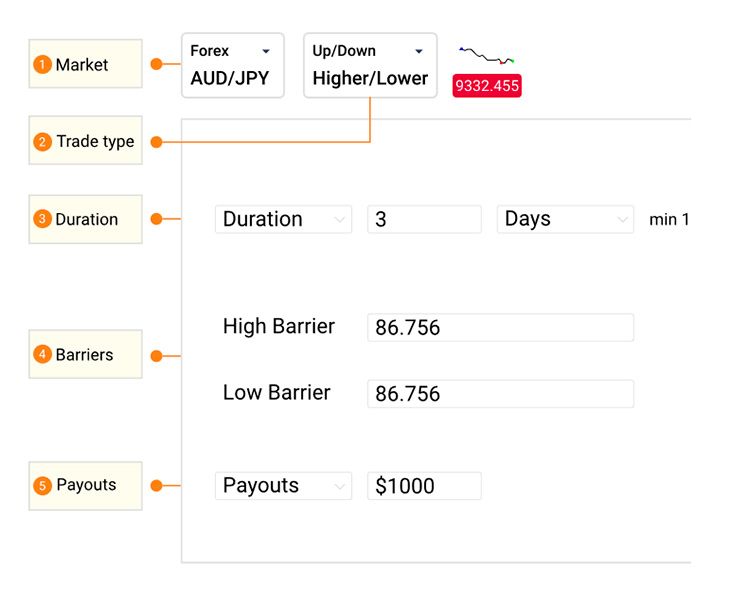 If you need help, you just have to click on the Contact Us link at the bottom of the Binary.com homepage. This takes you to the help page, where you can do any of the following:
Use the search bar on top to find the information you are looking for.

Check out the help content.

Submit a trouble ticket.

Call the toll free number 0800-011-9847 or the regular number +44(0)-1666-800042
Safe Trading at Binary.com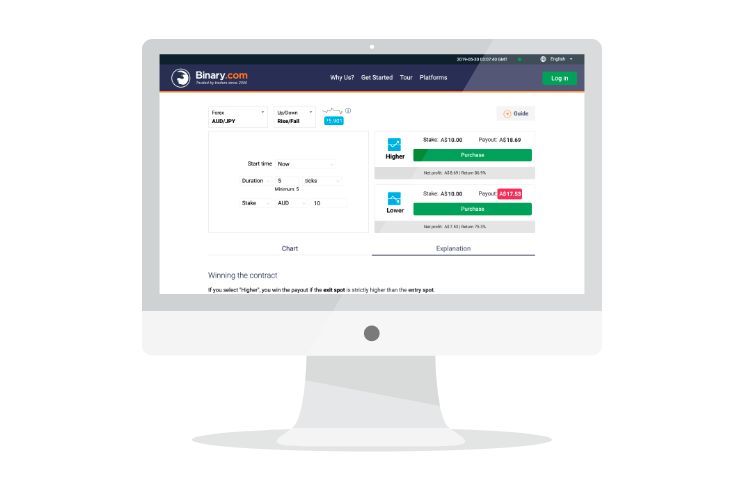 Binary.com introduces players to plenty of tips to enhance their account security and manage their risks. You don't have to plunge headlong into real money trading if you don't know much about it. You can practice your trading strategies as much as you like with virtual money. You can use the dropdown box at the top right of the screen to switch to virtual money trading at any time wish.
Binary.com also warns traders that trading CFDs and binary options is an activity fraught with risks and advises them to trade with money they don't mind losing. If you feel that you have lost control over your trading activities at Binary.com, you can request the online broker to exclude you from its services.
Binary.com FAQs

How the company does Work
One special feature of Binary.com is its availability across a range of platforms for advanced and beginner traders. More so, traders can choose a trading platform that can perfectly match their trading expertise and technique.
How legit is binary.com?
The company has most of the best payouts compared to other brokers. Any profits you make on successful trades depends on the asset, the type of trade, and the expiry. But you can make returns up to 100% on fall/rise trades and up to 1,000% low/high and no-touch/touch trades. Furthermore, the company has more than two billion dollars that it uses to trade. With its simplicity and effectiveness, unique binary trading technology, effective trading platform Binary.com has received awards from numerous industries.
What does it mean by the Binary.com volatility index?
Volatility index was introduced in 1993 by Chicago Boards Exchange as a way of measuring up to 30-day of volatility market prices. After one decade, the volatility index was advanced to take the volatility measurement on S&P.
What minimum withdrawal level can I make on binary com?
Majorly, the minimum withdrawal figure begins from $5 on e-cash systems, for credit cards, its $10, and then up to $25 for different bank wires.
Is the company safe?
Security and safety are part of Binary.com. The company has been a trusted agent since it was officially launched in 2000.
Is there any best binary trading application?
Yes, the IQ option has both the best binary trading applications for iPhone and Android phones. All the IQ trading options platforms are majorly regulated and licensed by the Cysec and they all experience an audit through KPMG yearly.
Can one get rich using the binary options?
Yes, you can get rich using the trading options for Binary.com. Even though it can be difficult to get rich, struggling with the platform for an extended duration can make you rich. The company's options frequently pay 70 to 90% past the trade size up to a winning trade. With that level of potentiality, you can still get rich.
Can I withdraw funds without any verification?
No, without mandatory documents, the company's trusted brokers can't facilitate any kind of withdrawals. They must be sure of where the funds they are sending will end up. They must be sure that anybody withdrawing the funds is exactly the one who registered, not the third party.
Which is most preferred between binary options and Forex?
Since binary trading options facilitate fixed rewards and fixed risks, its best suited to the risk-averse trader. Sometimes, forex offers higher returns and it's more complex and it's undertaken with higher risks compared to the binary options. However, with some luck and lots of practice, forex trading can be exciting and lucrative.
Our Take on Binary.com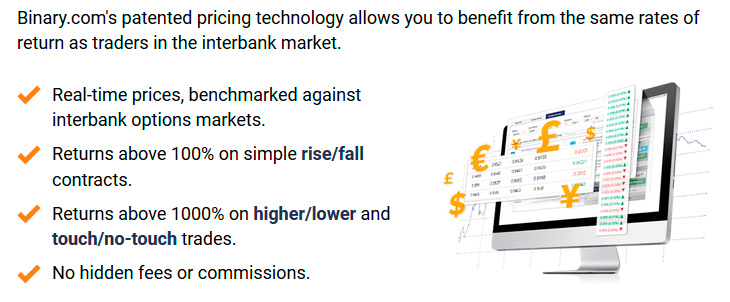 Binary is one of the oldest online trading platforms in the industry. The company had more time to become more innovative and resourceful than its competitors. As far as customer support, trading platform, and trading conditions are concerned, Binary.com is indeed one of the best and definitely worthy of your time.