Summary
IQ Option is an online trading brand that has been growing at a rapid pace every since its launch in 2013. The winner of several industry awards, IQ recently expanded its portfolio to include ETF trading, Forex trading, stock trading, and Digital Options.
Pros
• Processes 68% of the payout requests instantly.
• Provides support through chats and support tickets.
• Accepts online traders from many countries.
Cons
• Does not accept traders from various countries. An up-to-date list can be found on the official website.
Today, IQ Option serves over 50 million online traders, a number that continues to grow. Customers can make use of a number of tools that it offers to increase their understanding of its products. There is also a blog that helps clients stay updated on the latest financial news and events.
IQ Option is an award-winning online trading company that was established in 2013. The online broker offers plenty of financial products and keeps introducing new ones on a regular basis. Home to a community of over 50 million online traders, it features effective trading tools and a blog with the latest financial news.
The following are just a few of the industry awards that IQ Option has won:
Best Binary Options Broker and Best Binary Options Broker/Trading Application from IAIR Awards

Award of Excellence 2017 from the Academy of Interactive & Visual Arts

Best Technology Application Award from The Web Marketing Association

Most Innovative Binary Option Platform 2015 from IFM Awards

Best Trading Platform 2014 from Forex Awards
IQ Option factsheet 2024
Excellent customer support
IQ Option provides customer support for 24 hours per day throughout the week. Besides, there are more than 90 representatives offering customer support. You can reach out for support through calls, email, or chat.
The trading volume and the number of transactions are increasing tremendously. Currently, the IQ Option has more than 50 million active users and the number continues to grow. The broker is present in more than many countries.
Variety of trade instruments
IQ Option comes with plenty of CFDs which you can invest in.
The payout request takes around 1-3 days to be complete.  More than 60 percent of the payout requests are processed instantly.
IQ Option has bagged numerous awards indicating its authority in the Forex industry. For instance, it was awarded as the Best Trading Platform in 2014 just a year after it was launched. Besides, it was recognized by IFM Awards as the most innovative Platform in 2015.
IQ Option has established a charitable foundation for the benefit of poor children in Africa.
Reasons for Indian Brokers to Register at IQ Option

There are plenty of reasons for Indian brokers to register at IQ Option, and here are some of them:
Numbers – The number of active users increased from 14,514,300 in 2016 to 41,463,400 in 2018. The number of transactions has increased by over 650% and the trading volume has increased by 1700% from 2014 – 2018.
In 2018, traders withdraw 3.6 times more money than in 2016, a huge sum of $24,969,200. The average time to process a payout request is 1-3 days.
Customer Support – IQoption answers all your questions in tickets and chats. When the online broker started offering customer support through chat in 2014, traders had to wait at least 2 minutes in the queue. But today, they can obtain an answer in 38 seconds. Traders can also get a response to their emails in just 14 minutes.
Also, the customer support team has 91 members willing to assist traders with any problem they might have. Where support is concerned, IQ Option achieved a truly global level in 2018, reaching out to traders in many countries.
How IQ Option Works
New users can watch video tutorials on trading. They can use their demo account to practice and learn more about online trading and trade for real only when they feel confident. They can also read the platform's blog for valuable trading information.
Traders have to predict the way price moves in the near future and make profits or loses based on the difference between future and present price. If their prediction is current, they will be in the money. The difference between CFD trading and digital options is that traders' profits depend on the difference between the closing price and entry price. While digital options use an expiration time, CFD trading allows customers to use multipliers, trigger market orders in case the price reaches a particular level, and set stop/loss.
You can also use the following trading tools to make a successful trade at IQ Option:
Trading Tournaments – Participating in trading tournaments is not only fun, but also educational and lucrative. You can learn more and win part of the attractive prize pools. The entry fee is quite affordable.
Calendars – Use the calendars to monitor earning release predictions and upcoming financial events.
News Feed – Get the latest financial news in our news feed as it will help you to buy successful trades.
Historical Quotes – You can use historical quotes that provide valuable details regarding currency exchange rates in a particular time period to test trading strategies and perform technical analysis.
Is IQ Option Reliable?
The company has a center in Saint Vincent and the Grenadines, which offers Forex and CFD trading in other parts of the world. This financial service supports several languages including Russian, English, German, Turkish, Portuguese, Swedish, Korean, Arabic, and Hindi.
How to Get Started
IQ Option displays its registration form right on the homepage. They can sign up by just inputting their name and email, creating a password, and checking the box against the declaration in which they confirm that they are indeed above the age of 18 and agree to the terms and conditions outlined on the site. Once this is done, they can click on the green 'Open An Account for Free tab'. Alternatively, they can sign up through their G+ or Facebook accounts.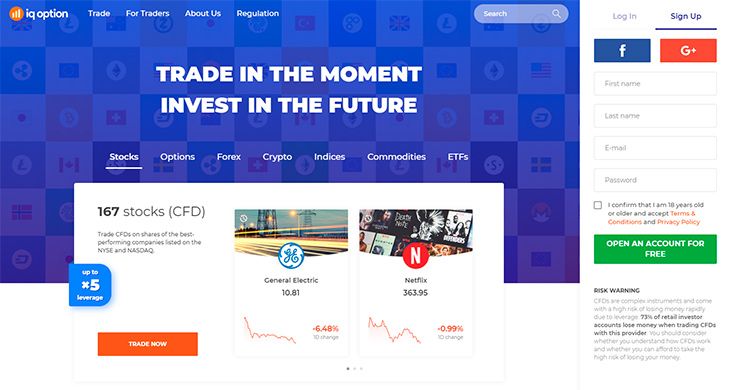 Once they have registered, traders will get a pop up notification informing them that IQ Option has created a demo account for them with $10,000 in virtual funds as well as a real account, which they have to load with real money. To begin with, they can start with their practice account.
However, if they are quite comfortable with online trading, they can load their account and get started with trading for real. Traders have the option of toggling between their real accounts and practice accounts any time they wish.
Excellent Trading Platform
IQ Option's sophisticated trading platform includes features such as technical analysis, multichart layout, historical quotes, and so on. 
Several Investment and Trading Opportunities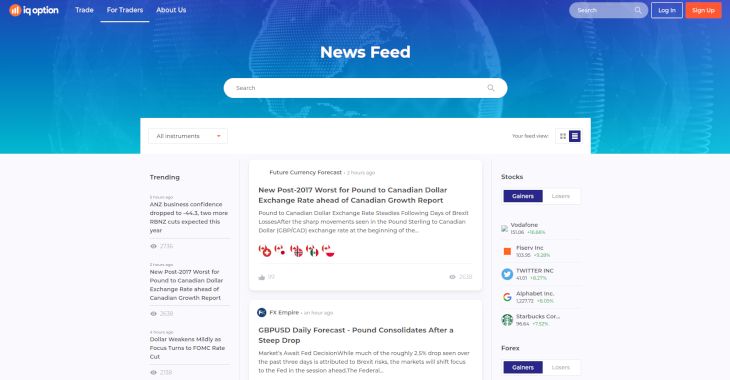 The company not only offers the best trading instruments, but also excellent trading tools such as market updates, volatility alerts, calendars, newsletters, and stock screeners.
Community Trading
You are not alone at IQ. You can always interact with like-minded people, get trading tips, and share your knowledge right from within the trade room.
Become a VIP Trader at IQ Option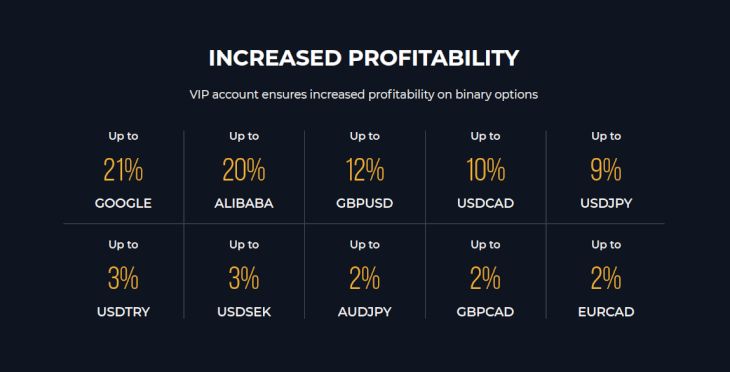 IQ Option Ltd. offers VIP-status only to non-EU/EEA traders!
If you have started trading heavily through your regular account, it is time to upgrade to a VIP account. As a VIP account holder, you can enjoy the following benefits:
Unique offers

Increased profits

24/7 support

Personal account managers

Monthly reports from expert analysts, providing expert opinion on the VIP account holders' trading style. These reports give VIP account holders expert feedback on the way they trade.

Access to tutorials, webinars, and eBooks from experts. For example, PDF documents titled "Pros and Cons of Technical and Fundamental Analysis," "Trading Sessions and Their Features," and "How to Choose an Asset to Start With?" are available only to VIP account holders.
VIP accounts are available for traders with significant deposits.
List of Assets at IQ Option
You will find the following trading assets at IQ Option:
Stocks – You can sort over 180 stocks offered at IQ according to capitalization, dividend, industry, price, P/E Ratio, 1W change, 1M change, YTD change, ID change, and 5Y change. You can also view stocks from top companies such as Apple Inc, Facebook, Microsoft Corporation, Wells Fargo, Nestle, and many others in the form of grids or lists.

Options – IQ offers two types of options—digital and binary. Traders can filter options according to 1D change, 1M change, 1W change, YTD change, 5Y change, and 1Y change.

Forex – You can trade over 30 forex pairs such as CAD/TRY, AUD/NOK, NOK/SEK, PLN/SEK, EUR/GBP, and many others.

Cryptocurrencies – IQ offers trading over 10 cryptocurrencies such as Ethereum, Litecoin, IOTA, Ethereum Classic, Dash, TRON, Neo, Qtum, and Zcash, among others.

Indices – There are 11 indices for traders to choose from, including US500, JP 225, GER 30, and HK 50.

Commodities – Traders can also trade on the price of six commodities — crude oil WTI, gold, and crude oil brent.

ETFs – Brand new in the IQ Options portfolio, ETF trading gives customers a low-risk opportunity to diversify their investment. They track commodities, indices, and assets, enabling clients to purchase as little as they wish on a margin and sell short.
Making Deposits and Withdrawals at IQ Option
You have to deposit at least US$/£/€10 to start trading at IQ Option. The online trading service does not charge traders any fees while making deposits or withdrawals. Customers can use a variety of banking options such as debit cards, credit cards, prepaid cards, Bitcoin, or electronic wallet services such as Skrill and Neteller to load their trading accounts.
However, they should be careful while choosing their account currency as they won't be able to change it later. Clients can make deposits in any currency of their choice and IQ Option will convert it automatically into their selected account currency.
Customers can withdraw as little as they please because IQOption does not have any minimum withdrawal limit. So they can withdraw as little as $2. However, if they want to withdraw lesser than $2, they have to contact a customer support agent.
The platform allows traders to withdraw as much as $1,000,000 per day. They may withdraw as many times as they please provided they do not attempt to withdraw more than the amount in their accounts.
To withdraw funds from their online trading accounts, traders have to first verify their identity by submitting to IQ Option photographs or scanned copies of the following documents:
Government issued photo IDs such as driving license or passport

Front/backs of credit/debit cards with the CVV number and middle digits of the card number concealed
IQOption takes three working days to verify these documents.
Withdrawal requests go through three statuses:
Requested Status – The payout request gets this status as soon as IQ receives it.

In Process Status – This means that the platform has started processing the payout request.

Funds Sent – This means that IQ Option has sent the money to client's eWallet account or credit card and that the withdrawn funds are not in its system any more.
Traders can view the status of their payout request in their transactions history any time they please. The exact time taken for the withdrawn funds to reflect in their accounts depends on the preferred banking method. While eWallet withdrawals take just one day, bank withdrawals take 7 – 9 days.
How to Get Help and Information at IQ Option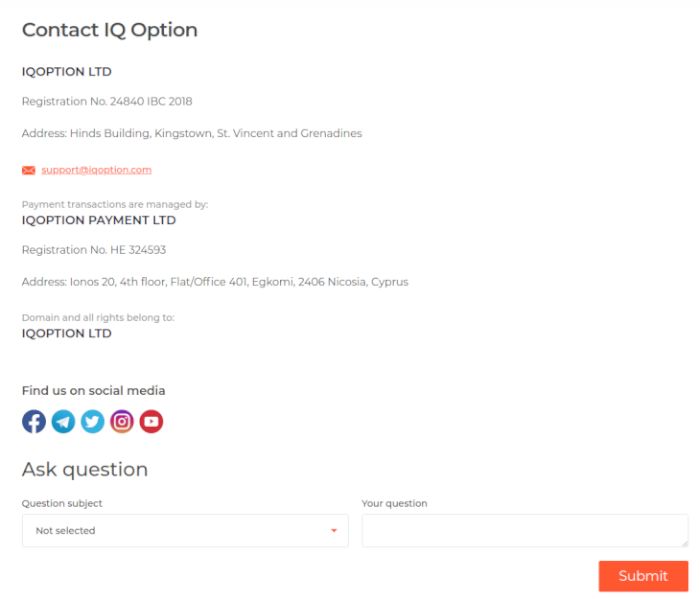 You can get help at IQ Option in several ways:
Social Networking Sites – The company has accounts on social networking sites such as Facebook, Twitter, YouTube, Instagram, and Telegram. Traders are free to interact with one another and the IQ Option staff at these social networking sites.

Email – Traders can send an email to [email protected].

Ask a Question – Traders can visit the Contact Us page and ask a question by first selecting their subject from the dropdown box and then typing their question before clicking on the red Submit button.
Up-to-date contact information can be found on the official IQ Option website: https://iqoption.com/en/contacts
Frequently asked Questions (FAQ)

IQ Option has a comprehensive frequently asked questions section that answers commonly asked questions on general issues, trading, deposits and withdrawals, tournaments, and trading accounts. Clients can also use the search bar at the top of the page to find the required information question. They simply have to use relevant keywords to find the information they are looking for.
Can I use Skrill for payment in IQ Option?
Yes. IQ Option accepts payments through Skrill, Prepaid Cards, debit cards, Neteller, Electronic Wallet Services, credit cards, and Bitcoin.
Is there a daily withdrawal limit?
You can withdraw your funds for any number of times in a day. Besides, you are not limited to the amount you can withdraw from your account.
Which trading tools are available?
For the success of your trading, IQ Option comes with tools such as calendars, news feeds, historical quotes and trading tournaments. A Trading Tournament is a special affordable feature that allows you to gain knowledge, have fun and win prizes.
How long does it take for withdrawal?
The duration taken for your funds to reflect varies with your method of banking. For bank withdrawals, wait for 7-9 days. For eWallet, your transaction reflects on the same day.
How do I open an IQ Option account?
1) Once on the home page, check on the right side. You can open an account using your Facebook or Google Plus account. 2 )Alternatively, find a signup form on the top right side. 3) Fill in your name, email address, and preferred password. Then, tick to accept the term and conditions and confirm that you are above 18 years of age. 4) Click a green tab below. You will receive a message confirming you have created a real account. Besides, a demo account is also created with a virtual amount of 10,000 dollars. 5) You can practice trading on the demo account. If you are contented with your trading skills, just deposit your funds and start real trading.
What is community trading?
Community trading is a unique feature by IQ Option to allow traders to network within the trading platform where they can share their thoughts and insights on trading.
What is the minimum amount for the VIP account?
VIP accounts are available for traders with significant deposits.
Which instruments can I trade in IQ Option?
You can trade over 30 Forex pairs and over 185 stocks. Besides, IQ Option allows trade in cryptocurrencies, Options, indices, commodities, and ETFs.
What is the minimum trading amount?
IQ Option allows a minimum of 10 US dollars to trade.
How do I withdraw funds from my account?
For a withdrawal request to be processed, you are required to submit your legal identification documents and debit/credit card for verification. You can use a passport or driving license for identification. • Scan or take a photo of the documents and submit them to IQ Option. The documents are verified within three working days after which you can place your withdrawal request. • The request is received, processed and the funds are transferred to your credit card or eWallet account. You can track the status of your withdrawal request on the transaction history.
Can I withdraw 1 us dollar from my account?
You have to contact a customer service agent to withdraw any amount less than 2 dollars
Our Take on IQ Option
IQ Option presents an easy-to-use trading platform that gives great value to traders. The platform complies with financial regulations and maintains a high degree of transparency while delivering a smooth trading experience.
The financial service appears to be a popular choice among customers from different parts of the world considering the fact that it had over 50 million registered users and has handled a trading volume of $380 million in 2019.
The site reports that its users withdrew $10,800,000 every month in 2019, which is 1.8 times more than the money withdrawn during the previous year. These figures coupled with positive user reviews of IQ Option clearly indicate that the trading platform is worthy of recommendation.
Sign up now to grab the benefits of an advanced trading platform, analysis & alerts, and risk management tools that ensure that you never lose more than you can afford. Be a part of a huge community of traders and learn the secrets of the most successful of them. Even if you are new, IQ Option can show you how to become a pro in no time.
General Risk Warning: The financial products offered by the company carry a high level of risk and can result in the loss of all your funds. You should never invest money that you cannot afford to lose