One of the common marketing strategies of online brokers is to create and introduce new products as it never fails to attract new clients.
IQ Option is no exception to this rule as it has recently introduced a new product called Forex options. This is a financial instrument that claims to make short-term trades more profitable, returns unlimited, and losses to never exceed the amount invested. It allows traders to limit their losses and lock in their profits by simply exiting before expiry time.
Forex Options – A Brief Explanation
Forex options is a new type of financial instrument that blends the elements of forex trading with options trading.
In options trading, traders have to predict if the price of a particular asset will be lower or higher that the fixed price at the time the trade expires. They will make a profit in case of a correct prediction. If their prediction turns out to be wrong, they will lose only the amount they invested. IQ Option allows its clients to trade with 18 options, including indices, commodities, and currency pairs.
If a trader wishes to exit the trade before its date of expiry, he/she can do so, thereby locking in profits and limiting loss. While binary options, which are available to European traders, are subject to ESMA restrictions, forex options are not.
Forex options is exciting because it puts traders fully in control of the risks they take and the profits they may make from their investment.
How FX Options Work
Before you get started with FX options trading, you must understand that it is not available to European traders at present, but IQ Options plans to introduce it to European traders at the earliest possible. When the financial instrument is finally available to European residents, it will no longer be restricted by the ESMA.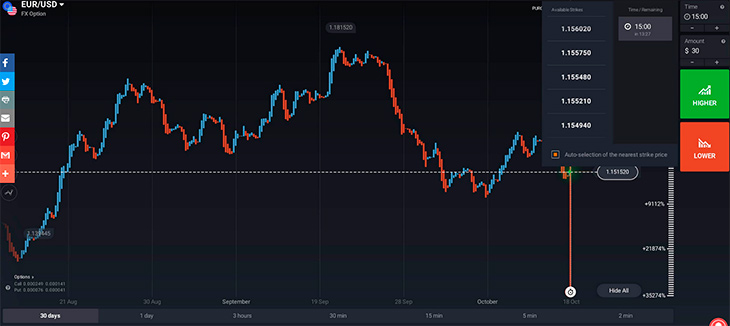 The following are the steps to trade on forex options:
Log in to your existing IQ Options account.

If you don't have an IQ Options account, open one.

Choose a currency pair.

Select options from the dropdown box.

Choose FX from the list that is displayed.
Once you have successfully followed these steps, you can start trading.
The following is a brief step-by-step guide to FX options trading:
Step #1: Since you have already chosen your currency pair, it is now time to determine the amount you would like to invest.

Step #2: Choose the time at which your trade expires. You can set your trade to expire within anywhere in the range of one to five minutes.

Step #3: Choose the strike price, which is nothing by the price of the asset at the time the trade is set to expire. This is illustrated by a white box on the right of the chart.

Step #4: Predict whether the price will be lower or higher than the strike price at the time the trade is set to expire. You can do this by clicking on lower or higher. When you do this, you will see a vertical red line, which indicates the time at which the trade will expire. You will know if you have made a profit or lost your investment when the price graph touches this line.
Forex Options – Pros and Cons
Forex options trading has its own pros and cons, especially as it is different from the usual binary options. The following are some of the advantages of the new financial instrument:
Advantages
Easy to Understand – New investors can easily trade FX options provided they have understood the basic concepts of forex trading, technical analysis, and binary options.

Trade 14 Currency Pairs – The expert trader's strategy is to focus only on a handful of instruments as it is easier to conduct a technical analysis of them and to follow the price trends. Trading currency pairs is easier than trading other assets as it is easier to predict their price trends. Since traders can choose from 14 currency pairs, they have a better chance of making more profits from short-term trades.

Ideal for Short-term Trading – Since traders can set the time of expiry for anywhere between one and five minutes, trading forex options is ideal for short-term traders. It also eliminates the hassles of tracking individual trades for several hours.

Potential for Profits is Unlimited – Traders have the potential to make unlimited profits as the profit potential is not fixed as it is with binary options trading and trading forex trading. Also, a trade's profit potential is displayed even before traders enter into it.
Also, if they lose, they won't lose more than the amount they invested. Trades made on IQ Option's trading platform have max returns of 92 percent.
Ideal for New Traders – FX options trading is ideal for new traders who worry about having their entire accounts wiped out. They can rest assured that they will lose only the amount they invested, not more and not less.

Traders can Exit before Expiry Time – Traders don't have to wait till expiry time to exit the trade. If they feel that they entered a trade by mistake or made the wrong prediction, they can protect their investment by just quitting.

Invest as Little as $1 – Traders don't have to invest hundreds and thousands of dollars as the minimum investment amount is only $1.
Disadvantages
However, this does not mean that trading FX options doesn't have any disadvantages. Here are some of the cons of this financial instrument:
Focuses on Currency Pairs Only – You can trade only on currency pairs. So it is a source of disappointment to traders who would like to trade stocks and commodities. To make matters worse, only 14 currency pairs are available at present.

Not Available to European Traders – Although IQ Option operates on a license issued by CySEC, European traders cannot trade FX options. However, the online broker is doing everything in its power to make its new financial product available to European traders as well.

Incorporates Only Short-term Trades – The maximum expiry time for a FX options trade is five minutes, which makes it ideal for short-term traders looking for higher profit potential. But just as traders can make unlimited profits in a short time, they can also lose their investments in a short time.
Digital Options and Forex Options at IQ Option
IQ Option also offers binary options and digital options trading.
Binary Options. Binary options guarantees return for correct predictions on price movements of assets within a given time frame. Traders can make profits of up to 95% in case of correct predictions. In case of wrong ones, they will lose the amount invested. Binary options are available on commodities, currency pairs, indices, and stocks.
Digital Options. In digital options trading, the trader has to make predictions on the extent to which the price changes, instead of just price movements. Profits can shoot up to 900% if the price becomes equal to the strike price. In case of a wrong prediction, however, traders will lose the amount they invested in their trade.
Conclusion – Should You Trade FX Options?
If you have a trading account at IQ Option, you just cannot miss trading Forex options. Since the profit potential is unlimited, trading FX options is a great way to build your trading account. Moreover, you will find it very easy to get started if you already have experience with regular forex trading or options trading.
But we suggest steering clear of FX options if your knowledge of options trading is low. These are short-term trades, where you can lose your investment too fast for comfort. We suggest that you invest some time in learning how to trade Forex options on the IQ Option demo account before actually risking real money.
A demo account will teach you exactly which currency pairs you should focus on and how to perform technical analysis effectively. When you have achieved a certain degree of success on your demo account, you can try trading FX options for real.