Summary
Launched in 2007, eToro, an online forex trading company, has always strived to make its online trading platform as simple and easy to use for beginners as well as seasoned traders. It has gained reputation as one of the top social trading platforms in the world. The trading platform incorporates innovative features such as CopyPortfolios and trading instruments with varying levels of risk.
Pros
• Social trading platform rich in features such as CopyTrade and CopyPortfolios
• Comprehensive help center
• Earn extra income by sharing experience and knowledge with other traders
• Wide range of instruments to trade on
• Licensed and trustworthy online brokering service
Cons
• Deposit options do not include cryptocurrencies
• MetaTrader platform not available
The FX broker is home to a large social network of traders. Features such as CopyTrader and the social newsfeed make it easy for investors to share their strategies, experiences, and pearls of trading wisdom.
eToro has achieved a lot over the course of years, and some of its achievements are as follows:
WebTrader – Launched in 2009, WebTrader is a trading platform that integrates professional tools for advanced traders as well as beginners.

OpenBook – Launched in 2011, this is the first online social trading platform in the world, enabling traders to copy trades from expert traders. It has won the Finovate Europe Best of Show 2011 Award.

Mobile Trading App – The company launched its mobile trading app in 2013 so that traders could buy and sell trades on the move on their iOS and Android tablets and smartphones.

CopyPortfolios – Launched in 2016, this feature, which was initially called CopyFunds, puts together popular assets and expert traders under predetermined strategies to maximize returns. The next year, eToro integrated CopyPortfolios with MomentumDD, a machine learning technology from Microsoft. This enables CopyPortfolios to utilize artificial intelligence to identify expert traders who are capable of generating double-digit returns.

Responsible Trading – The company encourages its users to trade in a responsible manner and offers them a variety of tools to help them do so. In addition, it provides tutorials and guides for beginners and a variety of risk-management features of seasoned traders.

Safe and Secure – The online trading service uses the latest security measures to maintain a safe and secure trading environment. It also maintains traders' funds separately in the best European banks.
Is eToro Reliable?
License
eToro offers its online brokering services under three licenses, granted by the following regulatory bodies:
Cyprus Securities & Exchange Commission (CySEC) for European traders

Financial Conduct Authority (FCA) for UK traders

Australian Financial Services License (AFSL) for Australian traders
These regulatory bodies require the forex broker to maintain the highest industry standards. Customers can, therefore, expect a secure and reliable brokering service.
Getting Started at eToro – Brief Guide
Getting started at this forex broker is as simple as clicking on the green Sign Up button at the top right of the homepage. This opens a simple online registration form, which prompts new users to input their names, phone numbers, and email addresses, and create a username and password. Finally, they have to click on the blue Create Account link to create their new trading account. Traders can also sign up through Google or Facebook.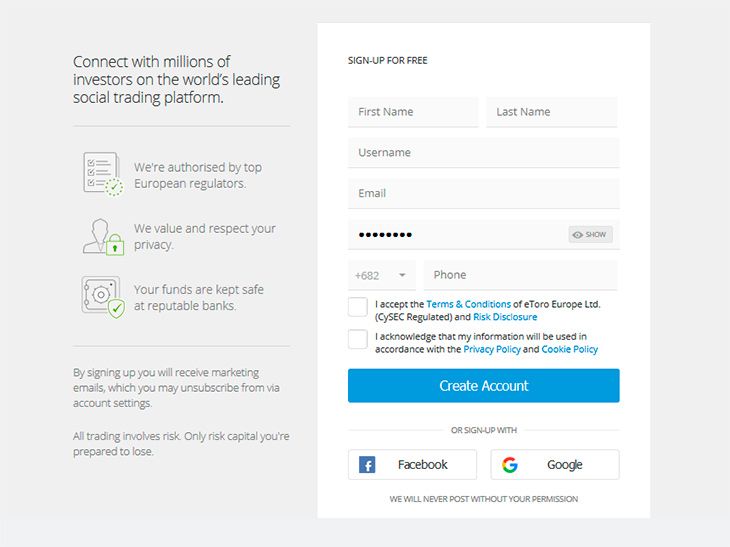 Traders can become either retail clients or professional clients of eToro.
Retail clients gain access to all trading assets. They can either copy trades or trade manually. Despite the restricted leverage of a retail account, traders get margin closeout restrictions and negative balance protection. They are also covered by the Investor Compensation Fund (ICF).
Traders can become professional clients only after they have passed a suitability test.
Professional accounts have no leverage restrictions and holders can enjoy high leverage trading and negative balance protection.
Assets to Trade On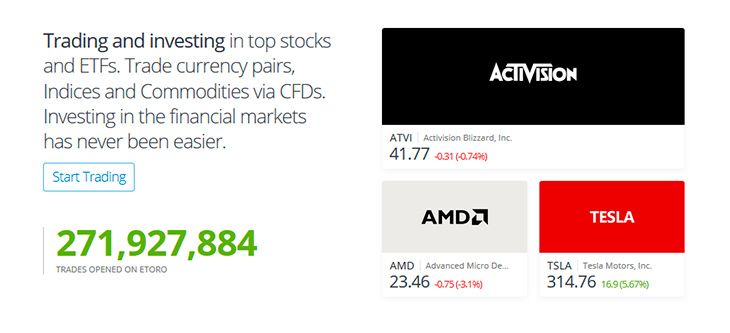 The online trading service offers trading on hundreds of instruments across six classes of assets:
Commodities – Trade on instruments such as oil, silver, gold, Natgas, Platinum, and copper.

Cryptocurrencies – Trade on cryptocurrencies such as Ethereum, Litecoin, Stellar, Ripple, and Dash as well as cryptocurrency/currency pairs such as BTC/JPY, ETH/XLM, BTC/EOS, and others.

Currencies – Invest in currency pairs such as EUR/USD, CHF/HUF, USD/TRY, GBP/CAD, EUR/NOK, and others.

Indices – eToro offers trading on SPX500, China A50 Index, US Dollar Index, AUS200, and GER30, among others.

ETFs and Stocks – Traders can also choose from ETFs such as Toronto Stock Exchange, Oslo, US Stocks, Chicago Board Options Exchange, and Hong Kong Stock Exchange.
Market Hours & Fees
eToro advises traders to check the relevant trading hours as breaks in trading can cause gaps in opening and closing prices. It charges fees generated from spreads when the position is closed. The spread varies according to market liquidity and conditions. Sometimes, market conditions can result in spreads widening far beyond those displayed currently on the website.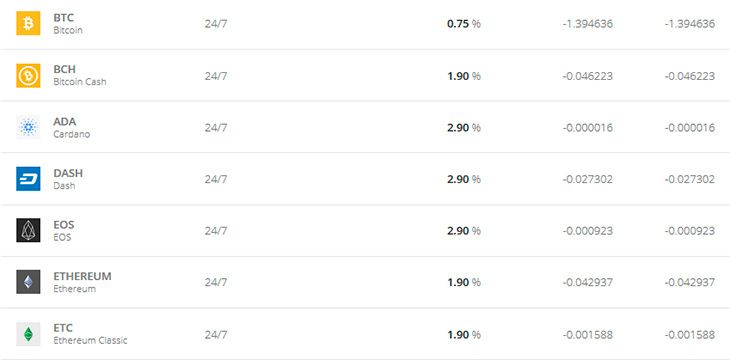 Market conditions can also result in changes in fees; so traders should visit the website regularly to get the updates. Market liquidity can cause changes in trading hours. The broker either disables trading or delays market opening in case of deficient liquidity or the market closing early.
Social Trading with CopyTrader™ – How It Works
eToro uses the experience and knowledge of experienced traders from different parts of the world to create social trading tools such as CopyTrader and CopyPortfolios. Traders are free to become followers or leaders. Or, they can trade independently.

Here are the main features of the social trading platform:
Simple and Diverse – The social platform is not just easy to use, but also enables traders to copy expert traders and spread their capital across different markets.

Profitable – eToro launched its copy trading tool in 2010. According to data sourced in Aug 2017, 78% copied trades generated profits.

Reliable and Transparent – Over six million registered users of trust the online brokering service. Since the service is transparent and exposes each trader's track record, portfolio, and risk score, users can easily choose who they would like to copy. This results in generation of more profits for all traders.

Newsfeed – The platform includes a newsfeed that enables traders to receive trading updates from other users. Traders are free to post trading tips and investment updates on the newsfeed for everybody's benefit.

Popular Investor Program – eToro rewards its popular investors with up to 100% spread rebates, up to 2% annual payments on assets under management (AUM), and monthly payments. Popular investors get rewards just for making profitable trades and sharing their knowledge and experience with other traders.
CopyPortfolios – How They Work
As Yoni Assia, the founder and CEO of eToro, puts it, CopyPortfolios is "like having thousands of traders, all working for you."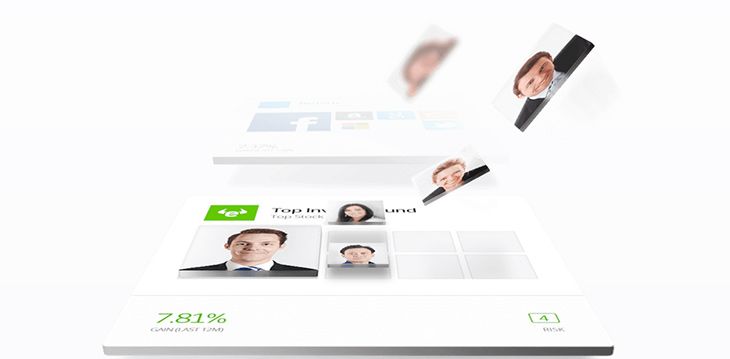 You can choose from two varieties of CopyPortfolios:
Market Portfolios – These are portfolios of commodities, ETFs, and CFD stocks that fall under a selected trading strategy.
Top Trader Portfolios – These portfolios comprise trading experts who generate the most returns on eToro.
The aim of CopyPortfolios is to promote growth, take copy trading to a revolutionary level, create diversified investments, and minimize risks. Getting started with CopyPortfolios is as simple as selecting a CopyPortfolio that best suits your trading strategy, inputting the amount that you want to invest on it, and clicking on the Invest button.
The broker's investment committee now manages your invested funds in a professional manner. It continuously analyses the performance of each CopyPortfolio and updates it automatically so that it can deliver the highest returns.
Trading Academy – Learn about Trading Online
The Trading Academy at eToro provides information and education to beginners as well as professional traders. The academy includes an education center with a wide range of learning tools such as webinars, guides, videos, tutorials, and much more. Beginners can use this information to gain a better understanding of social trading and make informed trading decisions.

You will find the following at the Training Academy:
eCourse – eToro's trading eCourse encourages beginners to take their time in learning the secrets of the online trading world.

Training Videos – Traders who do not have the time and patience to read articles and take courses can check out eToro's collection of training videos to learn how to make better investments.

Live Webinars – Joining live webinars is another great way to learn about online financial trading. Trading webinars not only train beginners on how to use eToro, but also reveal valuable trading tips.
Banking Information – How to Deposit and Withdraw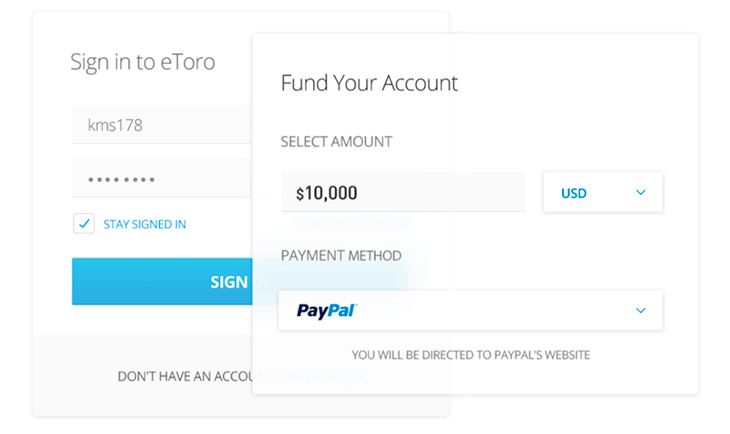 Making deposits into your trading account is safe and secure as eToro uses the latest SSL digital encryption technology. You can choose from the following banking methods:
Hong Kong traders can deposit up to US$20,000 instantly using China Union Pay.

UK traders can deposit up to US$40,000 instantly using Visa, MasterCard, and Diner's Club; up to US$10,000 instantly using Neteller and Skrill; and up to US$50,000 instantly using WebMoney.

German traders can deposit up to US$10,000 instantly using GiroPay.

Luxemburg traders can deposit up to US$20,000 instantly using PayPal.

Players from all over the world can deposit an unlimited amount using Wire Transfer in 3 – 5 days.

German traders can deposit an unlimited amount in 2 – 3 days using Wire.

Russian traders can use Yandex to deposit a maximum of RUB5000 instantly.

Traders from Vietnam, Indonesia, Thailand, and Malaysia can deposit up to US$10,000 using local online banking.
eToro takes up to 24 hours to process withdrawal requests, but the time taken for the funds to reach player accounts varies from one payment method to the other. The broker also charges withdrawal processing fees and displays the exact fee after traders have input their withdrawal amount.
How to Get Help

The company offers customer support 24/5 from Monday to Friday. Customers can make a corporate inquiry by writing to eToro (UK) Limited, eToro Worldwide Broker and Service Center, eToro AUS, and eToro USA LLC.
New traders who have not yet signed up at eToro can visit the Help Center to find answers to commonly asked questions on banking, copy trading, community, account verification, and others at the Help Center. Existing users have to sign in to their trading accounts before they can contact a customer support agent.
Conclusion

eToro is an online trading platform with a different because of the social elements it has incorporated into its software. Features such as CopyTrader, rewards for popular investors, newsfeed, and CopyPortfolios actually help traders learn more about trading and make successful trades. Since it is home to over six million satisfied traders, we could hardly find any negative reviews about this online brokering service.